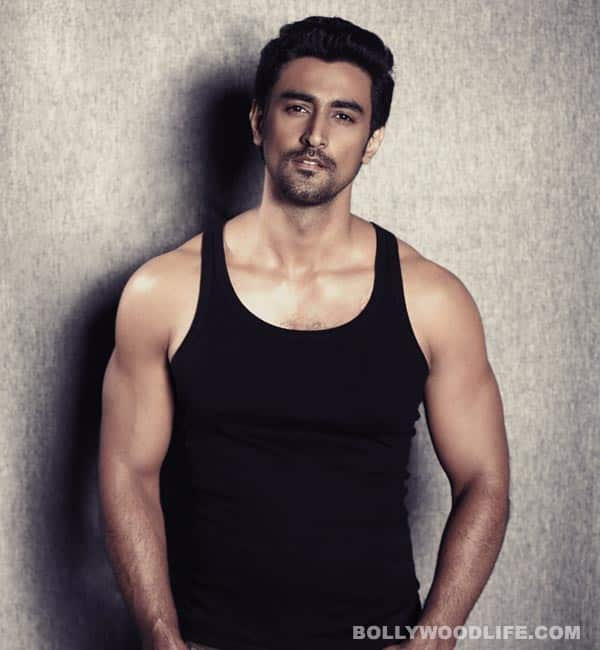 But the case is a tad different with Luv Shuv Tey Chicken Khurrana, says the actor in an interview where he talks about movies, Huma Qureshi and psssst….his relationship status!
On a hot October afternoon, in an almost bare house, Kunal Kapoor looks his fresh and yummy self in a blue striped shirt and denims. And in the easy conversation that follows the actor reveals why Luv Shuv Tey Chicken Khurrana might not have the stereotypically loud Punjabis, what's wrong with Huma Qureshi and why he is obsessed with Shaolin monks. And yeah, we also got him to reveal why he has been so choosy about signing on the dotted line. So read on, BollywoodLifers, to get a candid sneak peek into this chocolate boy's mind…..
I'd rather not say anything
Many have been raising an eyebrow over Kunal's long absence from the big screen and its related reasons. And KK is quick to respond to this by saying, "Actually I am NOT doing a movie after long! I had a release – Don 2; that was like ten months ago." Still, he has not been the focus of all the media frenzy. "The last film I did for which I had done interviews was Lamhaa (2010). In Don you had Shahrukh Khan, who was enough to promote the film for you," Kunal says and then adds, "Also, I am somebody who feels that unless and until I have something important to say, I'd rather not say anything. That's why maybe you feel I have not been around for a long time."
Saying yes to a movie is an impulsive decision
But being absent from the magazine covers and the front pages of the daily is hardly an excuse for doing limited roles, right? So we prod him again. "I think I am very clear about the kind of work I want to do or don't want to do. And unfortunately, I have got lots and lots of offers of the kind of work I don't want to do," Kapoor reveals, slight regret lacing his voice. "So I think it's the lack of right scripts coming my way," he adds with finality.
But what is the right script, then? "You know, I don't think it's any one kind of a script," Kunal says. "It's a very impulsive thing. When you read a script you instinctively know if you want to be a part of it or no. And ya, I don't think it's a thought-through decision that 'this' is the sort of script I will do," the tall actor explains.
I want to play the bad guy…
While the actor remains elusive about his kind of script, he opens up when asked about a dream role. "I want to play an out and out bad guy," he says. "But in our films there's a justification to it that in his childhood the guy was emotionally tortured, that's why he turned out to be the bad guy. Even so, there are a lot of people out there who don't have a reason to what they necessarily do. They don't really have the worst of childhoods and it's not like they've been beaten up. It's just that some people have an evil streak in them. And I would like to play a character who has an evil streak to him, but there's no justification."
Punjabis are always portrayed as dancing in the fields
Then what made him say yes to Luv Shuv Tey Chicken Khurrana? "Well….actually, it was the other way round. It was to get Anurag (Kashyap) to say yes to the movie," he says, "I was involved in the project right from the beginning. Me and Sameer Sharma got into ideating on the stuff we wanted to do and out of that came out the germ of Luv Shuv."
But from where exactly did it all begin? "Conversations!" Kunal reveals, "One conversation led to the other and the writer Sumit Bhatija took that forward. He got the script in place." But there was more to it. "A lot of it also came out of some of our personal experiences," Kunal says, "You know, whenever there's a film on Punjab, Punjabis are always portrayed as loud and over the top. And they're always dancing in fields. Everything in the movie is exaggerated. So, me, Sameer and Sumit realised that those are not the people we knew, and we've spent a lot of time in Punjab." Does that mean no loud Punjabis in this one? "We've tried to keep the situations, characters and music as real as possible. We've even shot it on the real locations, because we didn't want it to look like a set."
I will only work with Huma Qureshi if…
All the talk about LSTCK makes us wonder about his equation with co-star Huma Qureshi. And while Kunal is all praise for Huma, he puts forth two conditions when asked if he would like to work with her again. "It's superb working with Huma as long as there are no scooters and cooking involved," he says. What gives…we probe. "Her scooter riding abilities are fantastic. Whenever we used to tell her to ride a scooter, she would come lying down, used to skid all the way. And I had the misfortune of sitting behind her," Kunal elaborates. Uh-ho! So was he injured? He smiles at the question and replies, "As soon as I sat on the scooter with her I asked her, 'For how many days have you been doing this?'. And she said, 'six hours'. I instantly turned around and asked for a helmet, gloves and pads. So, no, I wasn't really injured."
But why no cooking with Huma? "Oh! She is a fabulous cook," KK says with a voice laced with sarcasm, then chuckles and adds, "She's only slightly better than me. I can make omelettes, boil eggs and make Maggi…that's it," the actor reveals. And how is Huma 'slightly better'? "She says she can also make mashed potatoes." Hehe! We get that, Mr K.
I am obsessed with Shaolin monks
Clearly, cooking is not one of the to-dos on Kunal's list during his idle moments. So what is? "Since childhood I've been obsessed with karate films and Shaolin monks. So whenever I have a chance, I go to YouTube and see the videos and stuff. I find their discipline really amazing." But his fascination doesn't end there. "I've also found out about an eight-week long course in Shaolin," he says. And he is planning to go, we wonder with a perceptible gasp. With a twinkle in his eyes Kunal says, "Well, some time in life, hopefully. It's on my to-do list (laughs)."
I am a private person
In the end, we try to get Kunal spill some secret beans on his relationship. And his reply, "You know, that's something I don't enjoy talking about. That's something I avoid talking about, because I am just a very private person." Ahem ahem. Guess, the shifting and squirming said it all, dear KK.