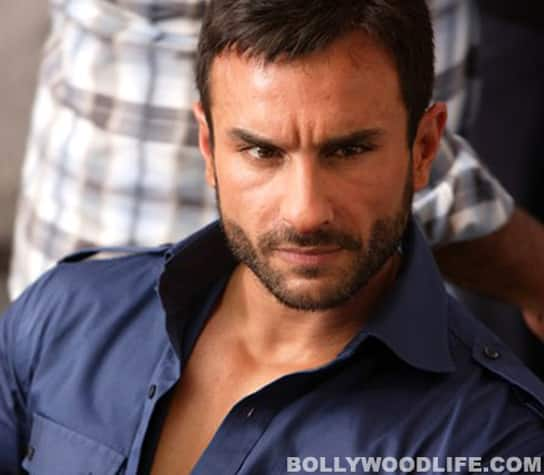 While most of the Mumbai film industry chose to keep mum about Punchgate, only two filmmakers chose to speak on the Nawab's behalf
While Twitter wags were busy taking digs at Saif Ali Khan's 'first solo hit', his Hum Tum director Kunal Kohli was one of the first to speak up in his defense on Twitter. Kohli said, "Saif explained the whole incident on TV just now. It's unfair to tilt opinions against anyone just because he's a star." He further added, "Without knowing Saif's side of what happened how can anyone just believe what this guys saying is true."
Singer-composer Vishal Dadlani tweeted, "Let me put it this way. IF Saif was provoked or hit first, I think he did what many of us would do. By 'us', I mean myself and you guys." He added, "Unlikely that Saif hit that guy without extreme provocation. At times hecklers get so obnoxious/personal/aggressive, that one has to react." RA.One director, Anubhav Sinha, also chipped in for Saif, saying, "TV Celebrating Saif's Pdmashree tonight more than ever before. Makes for good sensation. Anyone interested in what actually happened?" He added from his own experience, "Have personally seen stars take a lot of shit because they MUST behave responsibly. I am sure this coin has two sides too." He concluded by saying, "I mustn't take sides if I don't know the whole story. NOR SHOULD YOU."
Unfortunately for Saif, many of his co-stars and directors chose to not comment on the issue, while some, like Preity Zinta, were away shooting for films abroad. We picked up some tweets that we thought were kind of funny without hitting below the belt… just for laughs!
Saif Ali Khan faces 7 years imprisonment for assaulting man! Silly Comment >> Let him get married he will face life imprisonment 😉
Saif ali khan beats up a guy named iqbal sharma in Wasabi restaurant in taj yesterday night who asked 'Is kareena your Daughter'
Saif Ali Khan punches a guy on his nose. I guess he was trying to crack a Naak-Knock Joke
If only Saif Ali Khan had punched Vijay Mallya in the face, everyone would've been happy.
Punching a man in the pub. Saif Ali Khan outclassed Aamir Khan in the publicity & marketing of his film.
So Saif Ali Khan punched some guy last night. Maybe he was trying to Pataodi his girlfriend.
Saif Ali Khan punches a man in Taj hotel. What next? hire the sena guys to block Agent Vinod release & it will break all records :-).
Shah Rukh Khan now has some competition from Saif Ali Khan as well.
7 years imprisonment for Saif Ali Khan might leave Kareena with no option but contact #BCCI to replace the #AmulMacho through #IPL auction.