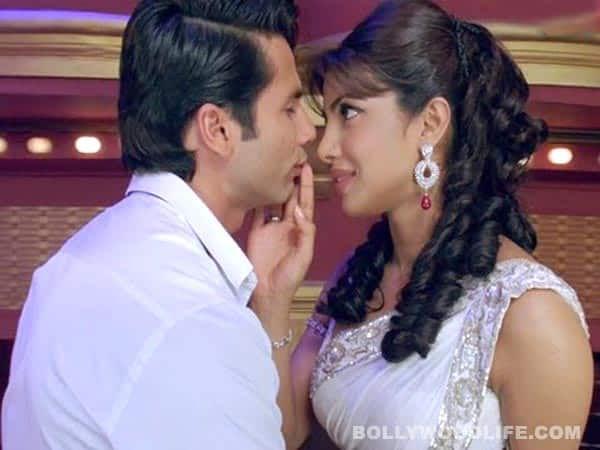 skip advertisement
The Fanaa director faces questions on the Shahid-Priyanka chemistry, comparisons to Mausam and copying the Taiwanese film Three Times
Kunal Kohli's next film Teri Meri Kahaani is set to release on June 22. After a not very excited response to its first trailer, the rom-com has finally managed to generate hype after the release of its fresh second trailer and the now-on-now-off romantic history of the lead pair – Shahid Kapoor and Priyanka Chopra. But director Kunal is not new to this turf. He has two huge hit love stories to his name – Hum Tum and Fanaa. No wonder then that after spending many months writing a script on a political subject, he decided to go back to what he loves doing most – making love come alive onscreen.
You are making a love story yet again…
I had almost zeroed in on a political subject, but it didn't work out. So I started all over again and wrote Teri Meri Kahaani. Guess everybody has their zone and love stories is what I am best at, so why not!
Shahid and Priyanka had reportedly broken up when you approached them for Teri Meri Kahaani. Was it difficult to convince them to work together again?
I shared the script with Shahid and Priyanka and they liked it. If there was any issue, they didn't speak to me about it. I spoke to Shahid, and then I spoke to Priyanka separately, and they both agreed. It was that straight and simple.
Did you want these two as your lead couple for this script and no one else? Or did you think of casting them because of their chemistry and the hype around them?
See, the personality of the lead characters changes in every era. Shahid has done a double role earlier, in Kaminey, and Priyanka has played multiple characters in What's Your Raashee? and 7 Khoon Maaf. I wanted them because I felt that they could do justice to the roles. And,of course, because they look good together!
The pre-Independence portions are in stark contrast to the early 20th century India we are used to seeing in the movies. It generally revolves around the Independence movement and revolutionary leaders….
I was tired of the pre-Independence period shown in movies. It was always portrayed as dull and colourless. I am sure it wasn't that grim all through. So the character of the 1910 Shahid is that of a 'dil fek aashiq'. There is colour and romance. His outlook towards the British is unique too. He doesn't believe that Indians are slaves of the Brit rulers. He feels that they are our slaves instead and we can get work done by them.
Was Teri Meri Kahaani more difficult to shoot than your previous films, considering the story unfolds in three different eras?
It was interesting, actually. For the 1910 period we had to create a place that was almost like a Gaulish village in an Asterix comic – far removed from the uprising and the depressing environment. But yes, we have used authentic props – earthenware, glasses, the architecture and natural dyes and fabrics for the costumes.
This was more fun. Making a film like Fanaa was more difficult, because we had to tell a terrorist's love story. I had to show Kajol kill a man she loves – those scenes were more difficult to shoot convincingly. In Hum Tum, I tried using animation (which was a first) in the narration of the love story. That was challenging too.
What about the 1960s portion?
I had a blast shooting that era. The story was set in the film industry, so recreating that atmosphere was fun. We created the streets, the trains and Mumbai's buildings. I love Mumbai and I was very happy recreating this city. It's probably my tribute to the city I love.
Do you get irritated that people are already comparing your film with Shahid's last (Mausam), which was a box office dud?
I feel that as people see more promos, they will realise that there is no similarity between the two films.
Do you feel pressured because your lead actor's last film was a huge flop?
As a director-producer, if your hero's last film hasn't done well, you are under pressure to deliver a hit. And if the leading man's last film has been a huge hit, then you have the pressure of living up to that success. So both ways, there is always going to be pressure.
Has Shahid been the bankable star that you were looking for?
The main thing I would like to say here is that you will get to see a completely new Shahid in this film. We have never seen him as a Muslim character and as this confident flirtatious shayar that he is, in the role of Javed. I am sure he will get a lot of 'wah wah' for his dialogues and his shayari.
What about Priyanka?
Priyanka Chopra is one of the best actors we have today. She has done varied roles, but she doesn't have that one quintessential love story to her name, like a DDLJ or a Jab We Met. She was very keen to do this film. She has never played a demure character before. There is a definitely newness to Priyanka in TMK.
Do you feel that you got that Shahid-Priyanka chemistry you were looking for?
There are two things on which the chemistry of your lead actors depends – the script and the background (the characters and the setting). Then you tell them what to do, and from there on the actors take it further. These two are very comfortable with each other and brought to the table what I was looking for. So yes, TMK is an entertaining and sizzling film that will bring a smile to your face.
You used shayari extensively in Fanaa and now in this film too, your lead character recites sher. You seem to be a big fan of this form of poetry? Did you write any of it?
Yes, I am a huge fan. I did help a little in the writing, and Prasoon Joshi has written some of it. We have also picked it up from other places. TMK has shayari that is more street smart, tapori and cheeky. These days we use a lot more rap, and club and house mixes. But we have forgotten our own art forms. Films like Kabhi Kabhi and Nikaah used shayari quite beautifully. I feel that using it in a mass medium like movies will make it easily accessible and fun, and will help popularise it.
You don't have an item song in your movie…
First of all, I hate the word 'item' song! What the hell is that? These songs don't last very long anyway. On the other hand, songs from my films like Hum Tum and Fanaa are still remembered and played on the radio even today. I feel that my film's music should be immortal.
View 'Teri Meri Kahaani' stills