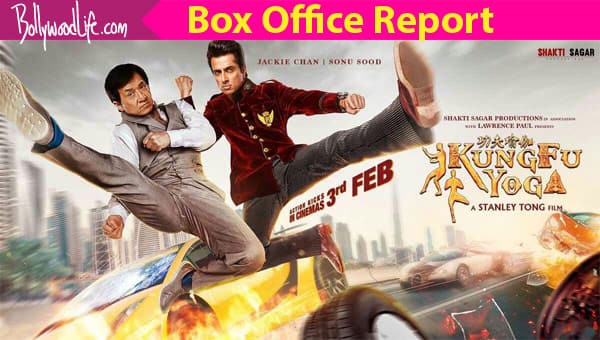 Disha Patani and Jackie Chan's Kung Fu Yoga released on January 28 and looks like the film has managed a fantastic run at the box office. While we don't know much about the Indian figures, the worldwide figures of Kung Fu Yoga will leave you stunned. In its third week of release, the movie has managed to break quite a few records and has already touched the Rs 1200 crore mark at the worldwide box office. According to Chinafilminsider.com, Kung Fu Yoga has collected a gross figure of $ 179.5 million (Rs 1208.57 crore) across the world.
You might be surprised by such huge numbers coz we are not used to see such massive figures for an Indian film during its second week of release. But let me tell you how this has been possible in the case of Kung Fu Yoga. While India has about 5000 screens, China has nearly 40,000+ screens. A Jackie Chan film is a big deal in China and we're sure that it got huge number of screens, almost 10 times more number of screens than any Indian blockbusters gets on home turf. Apart from that, Kung Fu Yoga also had a strong word of mouth publicity which worked in its favour and it was released during the Chinese New Year (a holiday season). The film has done well in the international markets too, so looks like everything has helped the movie to earn such massive numbers. ALSO READ – Jackie Chan dances on a Punjabi track at Kung Fu Yoga's premiere and it's shockingly impressive – watch video!
Made on a budget of $ 65 million (Rs 437.65 crore), the movie has now earned a profit of more than double of its cost of production cost. At the Indian market, the film has got good reviews too. In fact, Kung Fu Yoga did impress our BollywoodLife film critic. Anusha Iyengar, wrote in her review, "The film promises action and man, there's action! Watching Jackie Chan's kung-fu movies is worth all the money you spend on the film. The film is also visually good and there is humour at the right places. Thankfully, there are no unnecessary songs or romantic scenes in the film and it focuses on the plot completely. It's a complete entertainment package." ALSO READ – Kung Fu Yoga movie review: Jackie Chan and Disha Patani's action drama is entertaining but suffers from a limp climax
Clearly the Jackie Chan magic has worked for Disha and Sonu Sood, who's also a part of Kung Fu Yoga.