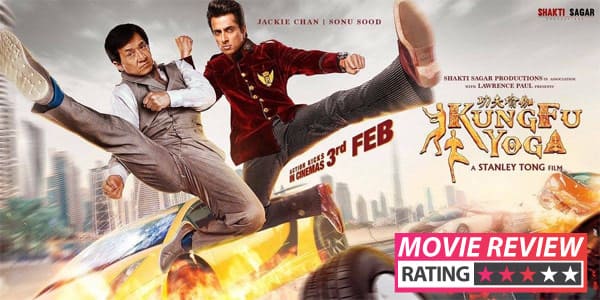 Kung Fu Yoga is one of those movies that you will really enjoy watching but just when you get all geared up for an exciting end, you're in for some Bollywood level disappointment. The movie keeps you hooked to the screens till the very end. It has a little of everything you want in an entertaining film like history, drama, action, adventure and laughter. Thankfully, there are no hardcore Bollywood-y romantic scenes or kisses in the film. The first half of the film is a complete entertainment package which takes place in China and Dubai. There is a crazy car chasing sequence that will remind you of a Rohit Shetty films. Because cars getting smashed for no reason, obviously. And let me tell you, there is more Kung Fu than Yoga in the film.
All the three stars have given their best performances in the film. I wouldn't say mind-blowing but it was definitely not cringe-worthy or OTT. The second half will somewhere remind you a little of the 90s show, Legends Of The Hidden Temple. Now since the first half of the film takes place in China and Dubai, everyone is wearing normal modern clothes. The second half of the movie is in India and suddenly Disha and her assistant in the film look like they are going to model for a wedding jewellery brand. Thank God they are pretty though! (ALSO READ: Kung Fu Yoga Quick Movie Review: The Jackie Chan, Disha Patani starrer is fast paced and entertaining)
What's Hot
The film promises and man, there's action! Watching Jackie Chan's Kung Fu movies is worth all the money you spend on the film. The film is also visually good and there is humour at the right places. The second half of the film will literally make you nostalgic if you were a 90s kid who loved the idea of solving crimes or puzzles. Or if you loved watching those game shows on television where participants would have to unlock mysteries to find the hidden treasure. Thankfully, there are no unnecessary songs or romantic scenes in the film and it focuses on the plot completely. It's a complete entertainment package. It's a lighthearted film that you can definitely watch with your kids. Disha plays a rather strong woman and not a damsel in distress which adds to the charm in the film. You will also see her fighting the bad guys.
What's Not 
Spoilers ahead! Just when you think the movie is not a disappointment and will definitely have a mind-blowing end to it, you are woken up from that dream. The film ends with people dancing in a temple (good guys and bad guys) and the song doesn't seem to end only. Jackie tries some Bollywood moves which will make you laugh but it's not the end that I had hoped for. The bad guy (Sonu Sood) becomes the good guy and everyone celebrates. Also, Disha plays a strong woman who has a ability to defend herself and fight men but is constantly seen calling Jackie for help. It is a little distracting from Jackie's amazing Kung Fu moves and to an extent, annoying.
The second half of the movie that is shot in India sees Disha wearing a lehenga and beautiful jewellery. I swear when you see her walk in that outfit, you will hear a bridal jewellery ad play in your head. Had the ending not been so dull, this film would have been so much better.
Verdict

It's not a film that you must watch but if you do, you'll definitely enjoy it. It's a must watch only if you're a Jackie Chan fan.
Rating:
out of 5
Reviewed by Anusha Iyengar
* Poor
** Average
*** Good
**** Very good
***** Excellent