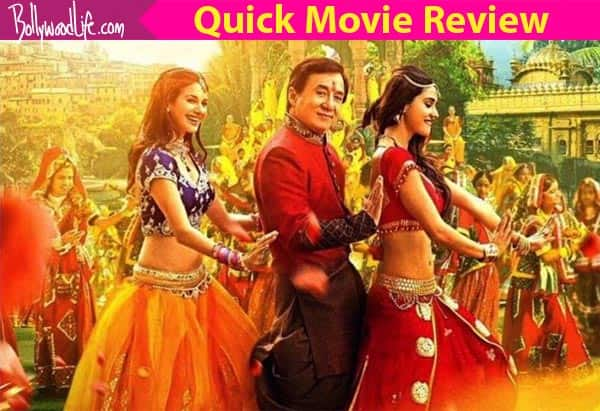 Kung Fu Yoga is all set to release tomorrow in the theatres. Starring Jackie Chan in the lead role with Disha Patani, Sonu Sood and Amyra Dastur in pivotal roles, the film encapsulates the wacky journey of an archaeologist, who wishes to unravel some deadly secrets. Our reviewer Anusha Iyengar is watching the film at a press show. So far, here's what she has to say about the film.
The film begins on a rather interesting note with visual narration of an Indo-China war that took place thousands of year back. Jackie Chan plays an archaeologist/professor who talks about the consequences of this war to his students who are clearly bored. To make his life more interesting enters Disha Patani. An archaeologist and a member of a royal family from Rajasthan whose family had been involved in the war. Disha looks extremely hot and joins hands with Jackie to unlock a mystery. Together they scare wolves using Kung Fu, hold their breath in water using Yoga and land in an ice cave full of dead bodies of soldiers who had fought in the war. And the entire first half takes place in China.
Just when things are about to get mushy and slow, enters Sonu Sood. The villain who breaks out a fight in an avalanche area and surprisingly all that action and 'hayyaa' doesn't invite the avalanche. After a few fight and escape sequences begins a chase sequence. Now this is what will remind you of a Rohit Shetty film. Cars flying about for no rhyme or reason and Jackie driving with a lion in the car whose name is Little Jackie. For animal lovers, few scenes in the film will make you cringe even though it's CGI. The first half seems really fast paced but entertaining at the same time. It's got the right amount of drama, laughter and action. Let's hope the other half is equally good.
Stay tuned to this space for the full review of the film.