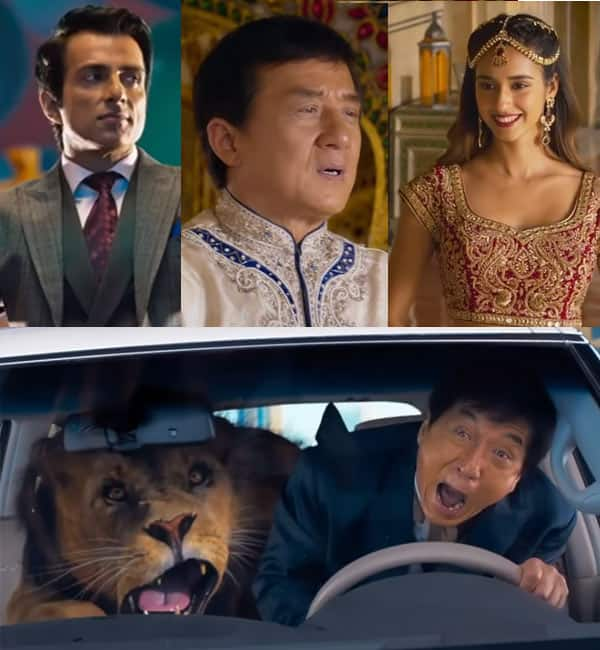 After Mallika Sherawat managed to bag eleven minutes of screentime in The Myth a few years ago, now Disha Patani and Amyra Dastur will now get to share screen space with none other Asia's biggest star, Jackie Chan in his new movie Kung Fu Yoga. And unlike Mallika, it looks like at least Disha Patani has something substantial to do in the movie, going by the new trailer that has landed up on the net. By the way, the trailer is in Mandarin so unless you have an understanding of the language, all we can do is enjoy the visuals and Jackie Chan's antics as of now, and wait for the English or the Hindi trailer later.
The film has been set up on a large scale, as Jackie Chan takes the action from China to India to Dubai. And just what you expect from his movies, there are a lot of gags in the trailer. The best bit I liked was the portion where Jackie Chan finds himself in a car with a lion and when the car takes for a leap, the similar expressions on both the beast and the man is damn funny. For the action junkie, there are rooftops fights, running away from hungry hyenas, and more stunt sequences set in the icy hinterlands. The trailer however had an uncanny similarity to Jackie Chan's own movie Chinese Zodiac.
Speaking about the Indian stars, Disha Patani had the maximum screentime followed by Sonu Sood and Amyra Dastur in the trailer. We have to say, Disha was looking really beautiful especially in the scene where she is seen in the Indian attire. Sonu Sood plays an antagonist in the movie, and he gets to have a couple of fighting scenes with Mr Chan himself. However, the trailer could have avoided the usual stereotypes attached to India like that levitating sadhu. After having stayed in this country for my entire lifetime, I have not seen one myself so I wonder how these foreigners always manage to catch a glimpse of these 'miracle workers'.
Watch the trailer here…
There is another trailer that has some English dialogues that came a couple of days back…
So what do you think of Kung Fu Yoga's trailer? Please share your views/feedback in the comments section below…