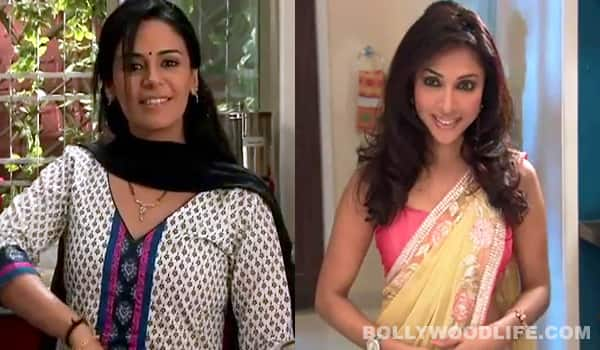 The moms take a back seat as their daughters continue their epic war over dad Pradeep Singh who recently passed away in the show
The maha-episode that brought together Bade Acche Lagte Hain and Kya Huaa Tera Vaada, also brought with it a sad twist in the tale. Pradeep Singh (Pawan Shankar) of KHTV, the man over whom the two women Mona Singh and Anushka Sarkar (Mouli Ganguly) fought tooth and nail, died. Tch tch! And ideally, the story should have ended right there.
But it's not in the rule-book of our television soaps to have such a sad ending, right? And so the story leaps 10 years ahead. And now, taking up after their widowed mothers, will be daughters Bulbul (Sargun Mehta) and Anika (Nilam Sivia).
While you see Bulbul exuding oodles of positive and benevolent energy under the guidance of her angelic mom Mona, at the other side you have Anushka's daughter who swears to keep the dark fire of revenge burning. Both young girls are getting ready to head to their respective work places. Where will they cross paths? Will they end up in the same office just like their mothers?
Time to wait for tonight's episode to find out how this story unfolds from here!