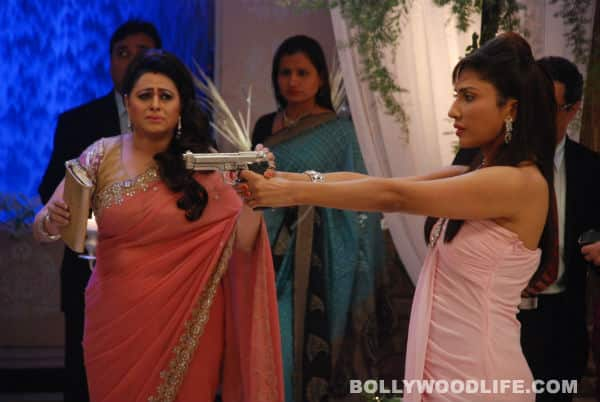 The vamp will soon be bumped off for good as she has quit the show
The concept of this daily soap was redundant right from beginning, but we let it go 'coz with talented actors like Mona Singh and Pawan Shankar, one expects good work. However, no one has been living up to their promise in Kya Huaa Tera Vaada. Ekta Kapoor has been testing our patience for quite some time now – and we definitely do not like it.
Mouli Ganguly playing Anushka Sarkar is the vamp in the story. Always known to be a decent actor, we saw her hamming to hilt in the maha-episode, which was aired yesterday with Bade Acche Lagte Hai. After realising that she has lost everything – money, status, love and respect – Anushka loses her mind. She is shooting people left, right and centre for no goddamn reason and strutting around like a professional killer. And after killing people, she comes home to get ready for a party, burns the rest of her designer clothes and leaves to kill Mona. In an attempt to show that the character is losing her mind, the makers are truly going bonkers. Clearly they are in a hurry to wrap up the current track as Mouli has already put down her papers. Smart decision!
With Anushka out of the picture, Kya Huaa Teraa Vaada is going to take a 10-year leap. So Mona and Pradeep (Pawan Shankar) who remain married, will be shown as parents of 18 and 20-year-old kids. We wonder who the new baddie of the show will be and hope for sure that he or she does a better job of it.