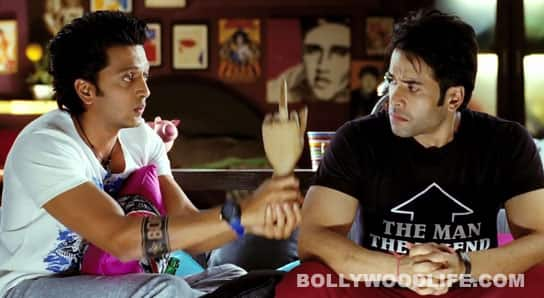 Replete with seedy sex jokes and an unending stream of tasteless humour, this sequel to the 2005 comedy, relies on forced vulgarity to grab eyeballs
After Vidya Balan's The Dirty Picture, producer Ekta Kapoor seems to have gone overboard with her dirty act in her forthcoming sex comedy. And trust us this is the dirtiest of them all! We looked at the digital poster of Kyaa Super Kool Hai Hum (the sequel to the 2005 film Kyaa Kool Hai Hum starring Tusshar Kapoor and Riteish Deshmukh) and it looked absolutely tacky and over-the-top.
It showed Riteish chewing a dog belt and a half-naked Tusshar Kapoor ogling a pair of the curvy tender coconuts suggestively. Yes…and the tender coconuts are placed in such a way in the forefront of the poster that they look like the curvy posterior of a woman! The poster also misspells a word rather vulgarly and roars that the film is "cumming" on August 2, 2012.
Then we stumbled upon the teaser of the film which clearly boasts that in spite of getting whipped by critics in 2005 the makers of KKHM are coming up with the sequel Kyaa Super Kool Hai Hum. Now, we are faced with the official trailer of the film. It looks like a desperate attempt to catch eyeballs with below-the-belt flaccid farce.
Agreed, it's a sex comedy and a desperate attempt at making an Indian version of the American Pie series, but is it really necessary to hammer it in with obscene dialogues and crass visuals? We were totally put off by the clumsy and crude vulgarity quotient of the teaser. With its distasteful jokes, double meanings galore, this film looks like a cyclone of smut and sleaze. Watch the promo at your own risk.
[jwplayer mediaid="93213″]
ALSO READ: Kyaa Super Kool Hain Hum teaser celebrates negative reviews