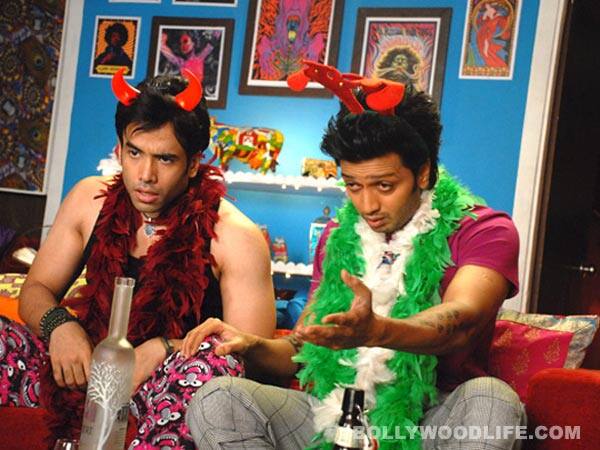 Riteish Deshmukh and Tusshar Kapoor are thick as thieves in the film. They laugh together, live together and bore us to death together…
The Gangs Of Wasseypur 2 promo shown mid-way through the film was way more entertaining than the movie, on the whole. And if we had to pick just one more funny moment from Kyaa Super Kool Hain Hum, it would be Tusshar Kapoor's act of appearing in one of those teleshopping ads and quivering hilariously, as if a vibrator was planted somewhere deep inside his body. A threadbare concept with very few scenes that will bring a grin to your face, the rest of the KSKHH is plain ridiculous and annoying. And as the makers rave about how the film is for people who can handle a generous dose of adult comedy, we think its main target audience is excited teenagers who simply pat themselves on their backs after deciphering the meaning of a double-meaning joke and celebrate adulthood far earlier than they are supposed to.
There's a scene in which a gay admirer of Riteish Deshmukh compliments him by calling him witty and Mr Deshmukh responds by saying, "If I am witty, then you are Churchgate." Sigh. Now that you've got a fair idea of what kind of humour we're talking about here, we think you should go ahead and watch this film only if you are in a desperate mood to revel in some mind-numbing jokes.
And just when you thought that we were highlighting flaws simply for the heck of it, just the way a caricaturist does in his cartoons, we find a positive point in KSKHH. The chicks in the film – Sarah Jane Dias and Neha Sharma – turn out to be pretty decent, acting-wise. In fact, they also do what they are supposed to do quite efficiently – that is, bat their eyelids and wear the most fashionable clothes ever.
And we would have had thought of giving this film a thumbs-up if  Tusshar Kapoor had not shown off his rear in the film, supposedly imitating John Abraham in Dostana. That simply made us pucker our lips and turn our noses up in extreme distaste. Ew!
Cast: Riteish Deshmukh, Tusshar Kapoor, Neha Sharma, Sarah Jane Dias, Anupam Kher, Chunky Pandey
Stars: 2
* Poor – Avoid!
** Average – Give it a shot if you are desperate!
*** Good – One time watch!
**** Very good – Must watch!
***** Excellent – Don't miss!