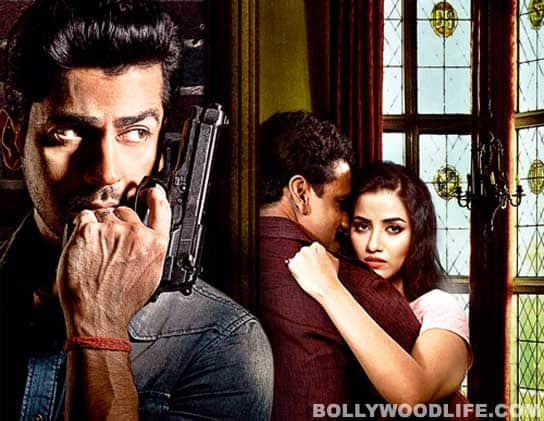 The director of this Manoj Bajpayee-Arjan Bajwa starrer is the protégé of the man who directed films like Cash and RA.One. That is hint enough to tell you what to expect…
To begin with, the director of Lanka, Maqbool Khan, has totally lived up to his mentor Anubhav Sinha's benchmark. The female protagonist of the film is almost as confused as the heroine of RA.One, played by Kareena Kapoor, who danced with a robot who looked like her dead husband. The lead protagonist (or antagonist) played by Manoj Bajpayee in Lanka, along with Arjan Bajwa, the actor who plays the part of his brother, are blessed with powers only superheroes can boast of. They don't literally fly around but, God forbid, if you do end up watching the film, you'll nod your head in agreement with me.
The film is set in a far away land called Bijnaur, supposedly somewhere in Uttar Pradesh, where there is no law or order. People live and die by the gun and their only idea of fun is an item number by Shveta Salve (which is the only watchable portion of this film). The story idea seems to have originated or have been written by someone who was smoking something really interesting in the badlands of Uttar Pradesh while flipping through a few pages of the epic Ramayana.
There are probably only two people responsible for the torture that is Lanka – the main culprit being the writer and his cohort being Arjan Bajwa, who has one single expression – that of someone who is angry or badly constipated. The film is the story of Jaswant Sisiodia (Manoj Bajpayee) who holds a powerful position. He is able to rape a medical student (Tia Bajpai) with her parents in the next room; the girl cannot get justice, because everyone in her town is afraid of her tormentor. The medical student's father (played by Yatin Karyekar) is Chief Medical Officer in the district and can, amazingly, lead a normal life while he knows his daughter is being sexually harassed on an almost-daily basis.
Things change when the villain's brother (who is supposed to let his brother down a la Vibhishan who causes Raavan's downfall in the Ramayana), played by an almost expressionless Arjan Bajwa, enters the scene and falls in love with the girl. The exploitation continues, however and Bajwa's character is unable to decide who he is going to save his loyalties for: his brother or his newfound love.
Maqbool Khan's Lanka could be considered one of the worst films of Bollywood in 2011. Arjan Bajwa casually goes in and out of hospital as if it were a pub. Tia Bajpai, who is supposed to be the central character, doesn't evoke any sympathy, primarily because she behaves like an idiot – despite being an educated medical student, she continues to be exploited.
Manoj Bajpayee tries to deliver, but the premise that he needs to follow is itself too shallow for his talent to be effective. The songs are pedestrian, as is everything else.
The makers have spent a lot of money to little avail. Avoid Lanka, even if you are a huge fan of Manoj Bajpayee, or else you might need a repeat viewing of Satya or Kaun to reaffirm your faith in him as a star actor.
ALSO READ: