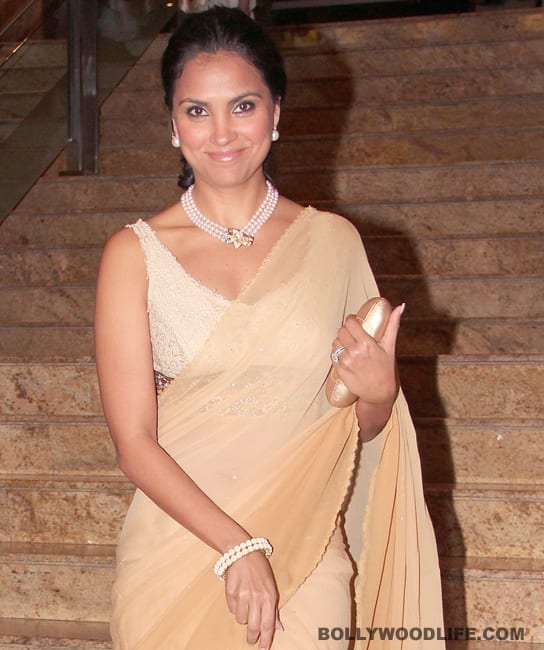 Lara Dutta intends to take a very short maternity leave post her delivery in February. The leggy lass hopes to be back in full form to produce movies in the month of May
"I am definitely producing another film in May 2012. It will have me in the lead. And again, like Challo Dilli where my co-star was Vinay Pathak, the pairing would be very unconventional. In case I can't get before the camera I will produce another film without me in the cast in May and then do a film with me in the lead from August," she said.
Lara, who tied the knot with tennis player Mahesh Bhupati this year, says this is a crucial time for the couple.  "Mahesh has the Olympics. I've motherhood to look forward to. So we've other important commitments. But I most certainly plan to remain an actor and a producer. It's something that I learnt from Shahrukh Khan during Don 2.  He told me he was happy to see actresses turning producers and advised me to continue with my career," said the former beauty queen.
For now, the 33-year-old is all charged up for motherhood. "It's by far the most important role of my life. But there are other roles too. Those cannot be marginalised. I don't do anything half-heartedly. I never became an actor to enhance my bank balance. The zeroes in my cheques never mattered. All the work that I've done so far as an actor is what I really believed in."
After debuting with Andaaz in 2003, she did films like No Entry, Jhoom Barabar Jhoom, Partner and Housefull.  She also featured in Don 2 and said: "It's a small role. I did it because I wanted to work with Farhan Akhtar and Ritesh Sidhwani and with Shahrukh Khan."
On a more serious note, Lara is set to produce a pre-natal yoga video. "Pregnancy is treated almost like an illness in some sections of our society. I've been my normal self during pregnancy. I want other women, who get nervous and anxious, to experience the same comfort level and to not feel awkward about their weight or baby bump. Have I been conducting myself with dignity and grace? I don't claim any exclusivity on the condition that I am in. I just feel motherhood should be a happy stress-free period for all women," she said.
Asked whether she wants a boy or a girl, she said: "Mahesh and I have no preferences. We're just happy we'll be parents."