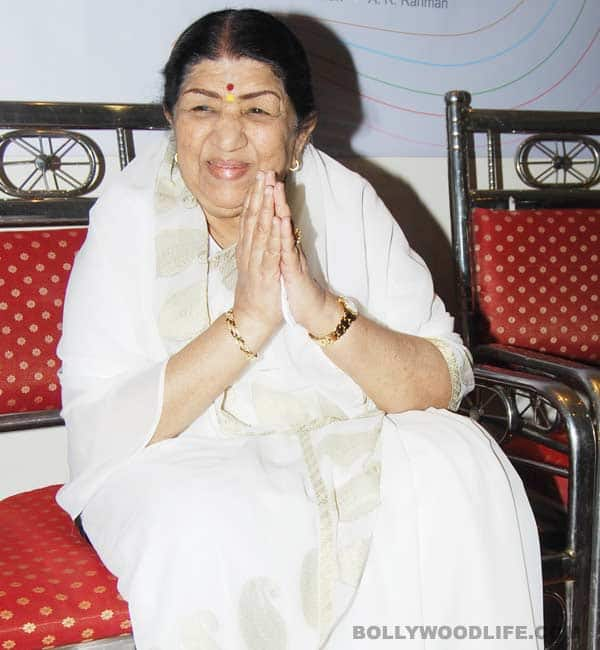 We wish the Nightingale of India a happy and fun filled birthday
Born on September 28, 1929, Lata Mangeshkar celebrates her 84th birthday today amid tons of love and jubilations. In spite of all the ups and downs, she will always be a musical giant in an industry where careers are short lived and those of musicians, even more so.
Eldest of five siblings – Lata, Asha Usha, Meena and Hridaynath – Lata took on the onus of taking care of the family and sang her first song onscreen for the Marathi film Kitti Hasaal (1942), after her father Dinanath Mangeshkar passed away when she was just 13. She moved to Mumbai from Nagpur at 16 and took further training in Hindustani classical music from Ustad Amanat Ali Khan, after which she began her epic journey in Hindi cinema. A versatile singer, Lata held her own when she sang opposite masters such as Mukesh, Kishore Kumar and Manna Dey. It was her pairing with Mohammed Rafi that was most popular and the two sang hundreds of songs together until they had an ugly fallout, after which they refused to sing together for a couple of years.
Praising her elder sister, Asha Bhosle said that Lata didi always took care of her after their father Dinanath Mangeshkar passed away. "She managed the home and took care of us despite several problems. It was very difficult for her. She then started as a playback singer for Hindi films. And, honestly, god gave her the place she deserved – right on top."
In her six decades of her music career, she has sung for almost every big female actor – from Madhubala to Meena Kumari and Madhuri Dixit to Kareena Kapoor. Lata Mangeshkar's voice remains timeless, ethereal and every bit as sweet as it ever was. Considering the space constraints, we managed to pick 15 of her songs that we like most. You tell us which you like best, but don't forget to send in your birthday wishes for your favourite singer too!
Naino mein badra (Mera Saaya, 1966)
Ae mere watan ke logon (Haqeeqat, 1964)
Satyam Shivam Sundaram (Satyam Shivam Sundaram, 1978)
Kuch dil ne kahaa (Anupama, 1966)
Lag jaa gale (Woh Kaun Thi, 1964)
Rahe na rahe hum (Mamta, 1966)
Aayega aanewala (Mahal, 1949)
Pyaar kiya toh darna kya (Mughal-e-Azam, 1960)
Zara si aahat hoti (Haqeeqat, 1964)
Ae dil-e-nadaan (Razia Sultan, 1983)
Ajeeb dastan hai yeh (Dil Apna Aur Preet Parayi, 1960)
Woh bhooli dastaan (Sanjog, 1961)
Tere bina zindagi (Aandhi, 1975)
Dikhayee diyen (Bazaar, 1982)
Kya jaanu sajan (Baharon Ke Sapne, 1967).
Which songs of Lata Mangeshkar do you like?