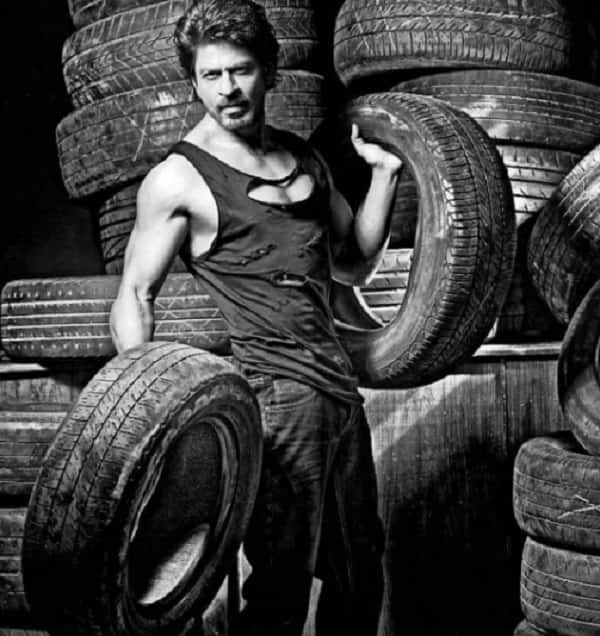 Dabboo Ratnani's annual calendar shoots are incomplete without Shah Rukh Khan. Needless to say that even this year, the 51 year old is very much a part of the 2017 calendar. And like every time, Dabboo has made SRK look bad and the actor is killing it. We just found this picture of the actor floating on social media which is clearly a still from Dabboo Ratnani's photoshoot. We know for sure that it's this year's pic because the actor was caught wearing the same ganji with tyres in the background, in a video shared by the photographer. In case you're unaware, we had earlier reported how Dabboo shared a sneak peek of what kind of photoshoot he is going to conduct. In one of the videos was SRK, showing off his cute dimples whilst talking about how he made the photographer do something he never would've done.
However, while they were busy being candid on camera, we were checking out the item of clothing, the background and everything else about the video. Hence as we see this pic of the actor holding a tyre like a pro, we can guarantee that it's a leaked image from the photoshoot. The torn ganji and King Khan's intense gaze will make you fall for him all over again. This time too we'll be treated with some fine pictures from the celebrity photographer. Disha Patani's smokin' hot pic from the shoot has already gone viral where she is posing like a sexbomb with just a pair of boots and underpants! You heard that right. The actress is looking too hot to handle. (ALSO READ – Disha Patani's topless photoshoot for Dabboo Ratnani's annual calendar is smokin' hot)
Well, the sneak peek itself was convincing enough that the complete photoshoot will be a treat to fans of all the celebs involved. But with the kind of pics that are slowing surfacing on social media, we're getting all the more curious about what the photographer has in store for us. The shoot marks debut of not just Disha Patani but Tiger Shroff as well! The calendar launch will be taking place in the today, in the evening. So far we've managed to get hold of only two pics from the shoot. However, the longer you stay tuned to this space, the quicker we'll update you on the status of the pics. (ALSO READ – Priyanka Chopra, Ranveer Singh, Shah Rukh Khan, Shraddha Kapoor all set to rock the Dabboo Ratnani 2017 calendar – here's a sneak peek)
So don't go anywhere and stay hooked to this space. Celebs like Priyanka Chopra, Varun Dhawan, Parineeti Chopra, Sidharth Malhotra, Amitabh Bachchan, Abhishek Bachchan, Arjun Rampal, Vidya Balan, Sonakshi Sinha and many more are a part of this year's 2017 calendar. Oh, tell us what are your thoughts on SRK's pic from the photoshoot in the comments box below.