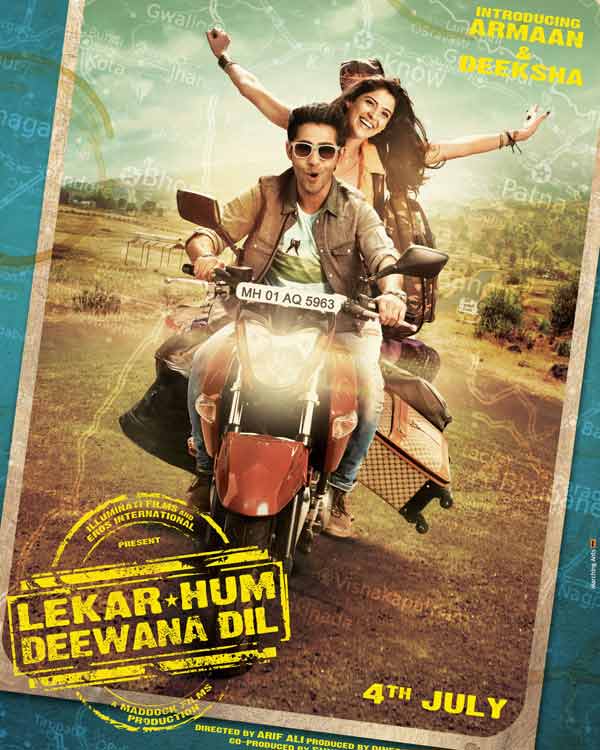 Imtiaz Ali's brother, proves his mettle with his first film
The concept of boy and girl eloping and then getting married has been seen in many movies like Bobby, Love Story, Betaab, etc. But Imtiaz Ali gave everyone a different eloping romantic theory when he gave us films like Socha Na Tha and Jab We Met. His brother Arif Ali takes cues from both the genres and tries to develop a mid way.
Arif adds the flavours of harsh realities in Armaan Jain and Deeksha Seth's elope, get-married and happily-ever-after theory. We as romantic buffs always end the movie at a guy and a girl falling in love and getting married against their family wishes. But, in reality, the love story starts after the wedding, because when pockets are empty, no amount of love can satisfy your hunger.
What is it about:
Dinoo and Karishma are two buddies amidst a group of college friends, who always deny that they are in love (Recall Genelia D'souza and Imran Khan from Jaane Tu Ya Jaane Na). Later on when Karishma's father, who is a true blue Shetty, decides to get her married to a Shetty boy, Dinoo helps her elope. It is during the eloping and over a few beers that the two realise that they should be with each other as they are a match made in heaven (too much, hai na?). The two then get married and it is then that they discover that real love also needs money to fuel it for a lifetime. The rest is their journey of discovering love keeping in mind all the harsh realities of life.
What's hot:
The second half of the film. It begins with some great direction by Arif and and great acting, not just by Armaan and Deeksha, but by everyone. As expected this half should have had the usual Bollywood rona dhona, but the good part about Arif's story is that there is hardly any melodrama.
Deeksha Seth is fantastic throughout the film and she will definitely remind you Anushka Sharma and Deepika Padukone in their initial days in the film industry. A dark horse is Akhil Iyer, who plays the role of Mahesh. His acting may have got minimal screen space but he definitely gave his best in that.
Though AR Rahman's music isn't too great, it gels very well with the movie's screenplay and helps to lift your spirits with the club number Khalifa Khalifa and draws sighs out of you with the poignant Alaahada.
What's not:
The first half of the film. It is filled with Armaan's over-the-top, loud acting, which gets a little irritating. Also there is an overdose of AR Rahman songs in this part of the film. You may want to walk out of the theater during the interval, but then you would miss a truly great cinematic experience in the second half.
Though Armaan is too loud in the first half, he makes up for that with some serious and thoughtful acting in the second half.
What to do:
Though the storyline of Lekar Hum Deewana Dil is clichéd, watching it over the weekend won't hurt.
Rating:
out of 5
Reviewed by Prateek Sur
* Poor
** Average
*** Good
**** Very good
***** Excellent