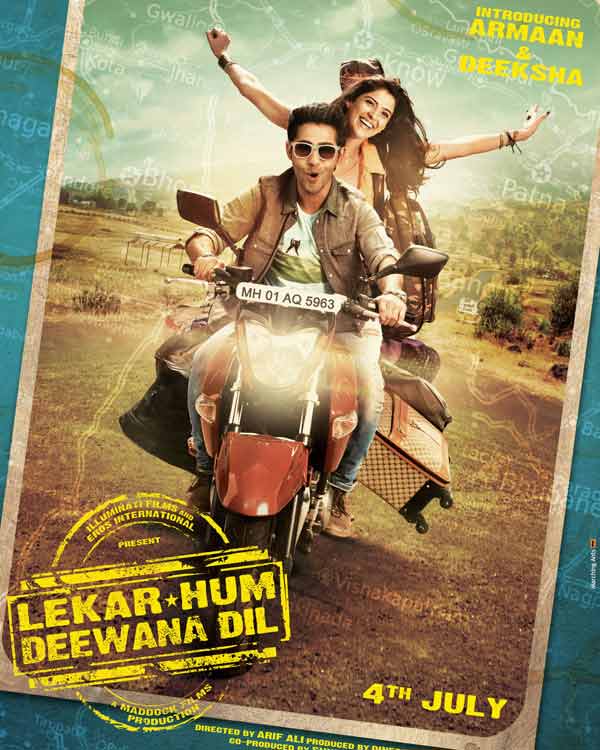 Music: AR Rahman
Lyrics: Amitabh Bhattacharya
Singers: Shweta Pandit, Konakal-Mahesh Vinayakram, Suzanne D' Mello, Hriday Gattani, Nakash Aziz, Jonita Gandhi, Shiraz Uppal, Raghav Mathur, Tanvi Shah and AR Rahman
Imtiaz Ali's brother Arif Ali makes his directorial debut with the Armaan Jain and Deeksha Seth starrer Lekar Hum Deewana Dil. Armaan, the cousin of Ranbir Kapoor, Kareena Kapoor Khan and Karisma Kapoor, will be the Kapoor Khandaan's latest entrant in the filmi duniya. Having composed for couple of Imtiaz Ali films before, the Mozart of Madras readily agreed to compose music for this film as well. Expectations were therefore very high from this film. So does the music of the film make us jump on our feet or is it very very thanda? Read the song by song music review and find out…
Khalifa
Sung by AR Rahman, Shweta Pandit, Konakal-Mahesh Vinayakram, Suzanne D' Mello and Hriday Gattani, this is a nice and youthful club track. The song has a manic energy which is very hard to let go by. The song infuses rap with techno beats and manages to amalgamate a bit of Carnatic music to this hip club number. The deluge of singers gives this song a cocktail feeling. If you are too tired, then this is the track for you to let your hair down and dance away.
Maloom
Sung by Nakash Aziz, Hriday Gattani and Jonita Gandhi, this song is quite alluring as it has an old retro soothing feel to it. To top your pleasure quotient there are some endearing intermittent whistling and some guitar strumming which have come out very beautifully. The song charms you as a listener but many a times the male vocals make it hard to figure out the lyrics which puts you off a lot.
Allahda
Sung by Shiraz Uppal, this song is a listener's beauty. The composition is good, the arrangement of music is perfect, the lyrics are apt and Shiraz's pitch-perfect vocals make this song very heart-warming. Shiraz needs to be congratulated for bringing alive this song with his mellifluous voice as the composition is not something too great.
Mawwali Qawalli
Sung by Raghav Mathur and Tanvi Shah, this AR Rahman composition is very innovative and experimental. You will be treated to African style drumming and percussion, which is laden with a lot of bass. However, this is not one of those songs that you would want to listen to over and over again.
Beqasoor
Sung by Shweta Pandit and Nakash Aziz, this song is has a serene melody to it, which touches your heart. More than AR Rahman's composition, this song is made lively by the singers who have done a tremendous job. The song could have been a masterpiece but the music arrangement fails a bit as the tune seems to be nothing too extraordinary.
Tu shining
Sung by Hriday Gattani, this song has a boyish charm to it, which you might like. But it is the vocals which don't impress you that much and the lyrics fail simultaneously. AR Rahman's tune also doesn't have anything new to offer. The English words used in the lyrics at times don't come out properly and you have to try really hard to figure out the lyrics.
Verdict: The soundtrack of Lekar Hum Deewana Dil is sweet no doubt, but it fails to have the trademark AR Rahman feel to it. Considering his last album Kochadaiiyaan was one of his best works, this one lacks that feel. Our picks of the album are Khalifa, Beqasoor and Allahda. So go ahead BollywoodLifers, listen to the songs and let us know your thoughts about the same.
Rating:
out of 5
Reviewed by Prateek Sur
* Poor
** Average
*** Good
**** Very good
***** Excellent