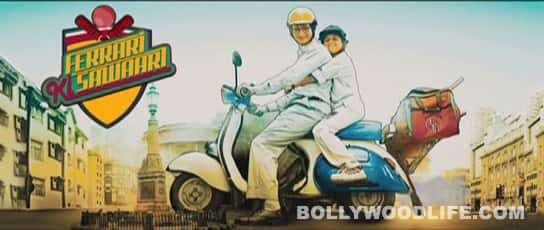 Vidhu Vinod Chopra's upcoming movie is surely making news for all the hatke reasons
We first noticed Ferrari Ki Sawari, starring Sharman Joshi and Boman Irani, when the buzz surfaced that Sachin Tendulkar's Ferrari will make an appearance in the movie. And now, we hear that Vidhu Vinod Chopra had even planned for a hatke premiere.
"Single screen theatres like these are the root of Indian cinema. We have grown up watching films in such places, not multiplexes. So we thought of having the premiere here," VVC says talking about the premiere that was held at Delight cinema in old Delhi. But that wasn't the only surprise.
What made us sit up and take notice was that Lal Krishna Advani was also present at the screening! Whoa! Now how many Bollywood movies can boast of that kind of an audience for their premieres? Hardly any, right? And that's why actor Sharman looked extremely happy when he said, "We are very excited and honoured that Advani ji has come to watch our film and we are eager to know his reaction."
But while LK Advani's reaction to this slice-of-life movie is not known as yet, we can't wait to find out what a ride on this Ferrari holds for us.