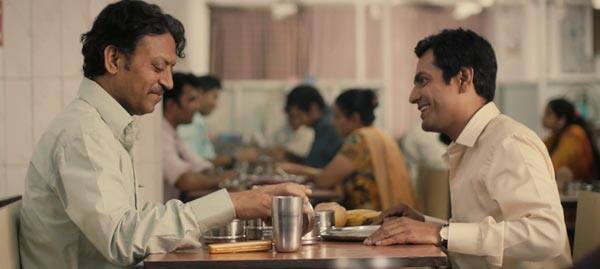 But Indian cinema is cruelly underrepresented at the fest, feels Cineswami
It is indeed wonderful news that Ritesh Batra's delightful The Lunchbox (Dabba), starring Irrfan, Nawazuddin Siddiqui and Nimrat Kaur, is in official competition at the London Film Festival and will compete for best film alongside some of the best directors across the world. However there are only 7 films of South Asian origin out of a total of 234 selected features, just 3 percent. It just doesn't add up.
Let's crunch some numbers. London has a population of 8.174 million people. Of this, some 12.09 percent are of South Asian (Indian, Pakistani, Bangladeshi, Sri Lankan, Nepalese, Bhutanese) origin. Since the other countries don't have much of a film industry to boast of, Indian cinema is the default choice for these one million people. This audience is well served when it comes to Bollywood and Tamil cinema and to a lesser extent, Telugu and Malayalam cinema.
However, the Indian films released in London are overwhelmingly commercial. Independent films like say, The Ship of Theseus are not released in London cinemas and festivals like the London Film Festival (where Theseus screened last year) and the London Indian Film Festival are the only places where audiences keen on alternate fare can watch these films. It is therefore baffling why the British Film Institute chooses to continually under serve a large audience bloc.
Nowadays, because of funding cuts from the government, the British Film Institute, who organise the London Film Festival, is all about penny pinching and making money. So why not programme more films from South Asia? After all, nearly all these screenings get sold out much in advance and play to full houses, whereas obscure experimental films chosen from the far corners of the earth often unspool before an audience of one (usually the filmmaker).
Going by the population percentage of 12.09, out of 234 films 28 films need to be from South Asia. If that seems an excessively high number, it is not, given the high amount of films from, say, France, given that the French population in London is around 400,000. In 2013, there are no fewer than 45 films made with French involvement in the London Film Festival, which translates to 19 percent of the programme devoted to less than 5 percent of the population. Sure, it can be argued that audiences across the board, not just the French, will be interested in watching French cinema, but that same argument can be used for South Asian cinema.
For the record, other films of South Asian origin at this year's London Film Festival are: Nagraj Manjule's Fandry; the late Rituparno Ghosh's Tagore docudrama Jeevan Smriti; the restoration of Uday Shankar's 1948 dance drama Kalpana; Richie Mehta's Siddharth, starring Tannishtha Chatterjee; Buddhadeb Dasgupta's Anwar Ka Ajab Kissa, starring Nawazuddin Siddiqui; and Bhutanese director Khyentse Norbu's Vara: A Blessing, starring Shahana Goswami.
Fans of South Asian cinema in London can take refuge from these crumbs. Meanwhile, the British Film Institute continues to snub a large audience. Perhaps for them, White Is Right.