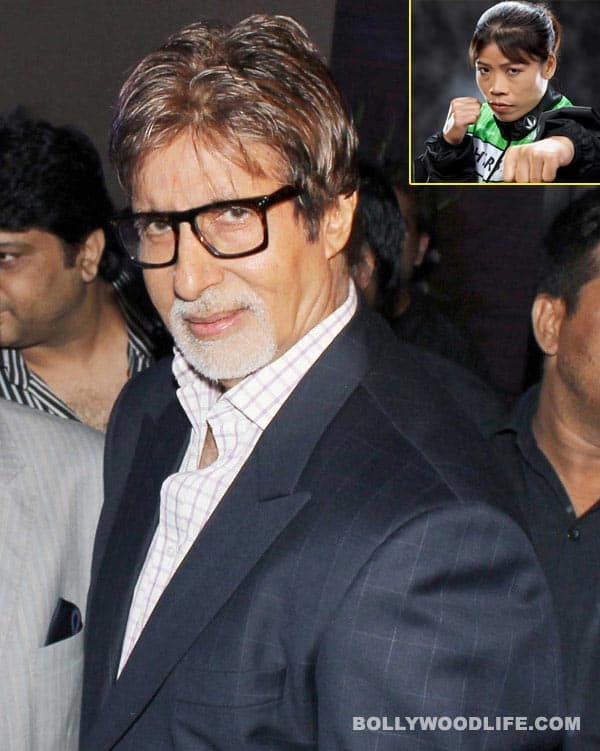 Nothing escapes Big B's blogs. And his current favourite is our boxing champ from Manipur
When Mary Kom qualified for the semi finals of women's boxing in the London Olympics, it was a moment of pride for the Indians. And that was precisely why Amitabh Bachchan decided to tweet about it.
"Mary Kom !! wins her boxing bout, insured a Bronze ! What a story ! A Mother of two from Assam, creates moment of pride for India !!" read Amitabh's twitter account. But in the moment of ecstasy, Mr Bachchan happened to make a small error. Not the one to let it go un-corrected, he apologised in the following tweet that said,"Sorry correction : Mary Kom is from Manipur, not Assam .. apologies !!"
What's more, Amitabh even shared a tiny trivia on this boxing champ by tweeting, "Mary Kom ! When she was at her prime, women's boxing was not introduced in Olympics ..!! Still, fighting her way today for a medal !"
But looks like 140 characters weren't enough for Big B. And so he poured his heart out for this boxing champ on his blog too!"Mary Kom has had an amazing life and her story is such a fairy tale, it would be difficult to imagine what all she went through to get where she is today. A Mother of two, taking up Boxing for India and coming out victorious is nothing short of miraculous. How she lived in meagre circumstances and without any support from any sporting agencies, either private of State, she emerged through shear will power and love for boxing to be a medal winner in the London 2012 Olympics … salutations and respect and a prayer for her to continue her victories in the days to come .." Amitabh wrote. Whoa! Kudos, Mary Kom!
Bollywoodlife wishes you all the best too!