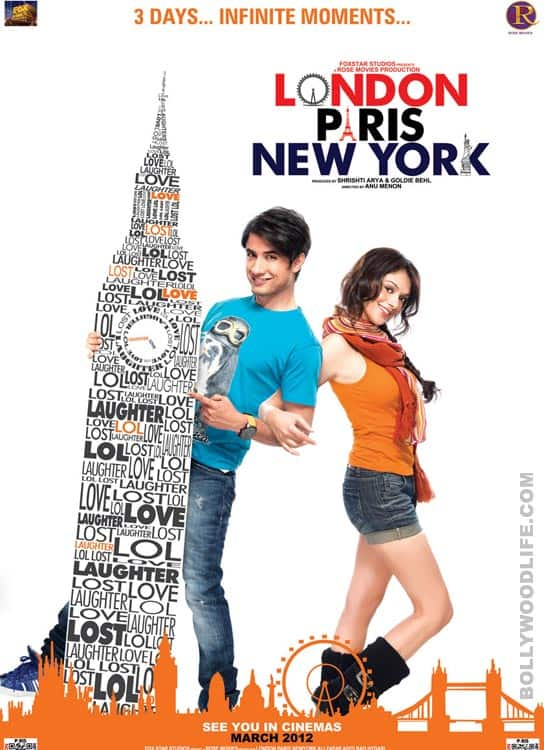 You don't have to be love-starved or have a great appetite for romantic flicks to enjoy the feel-good experience you indulge in while watching London Paris New York

'Stay true to yourself' is one of the dialogues in London Paris New York that plays an integral role in protagonist Ali Zafar's life. And that is something we feel like saying about the director's work as well. Anu Menon must have stayed really true to herself to churn out such an honest film, although certain situations seem right out of Ethan Hawke and Julie Delpy's Before Sunrise and its sequel Before Sunset. No sermonising, no long lectures on love or the signs of love; it's simply a light-hearted narration about two people who have feelings for each other and are limping about in a relationship stuck in deadlines and unfortunate circumstances.
London
The two meet at the airport and later decide to spend the whole day exploring the 'buzzing-with-energy' streets of London. As they loaf around, we discover that Aditi Rao Hydari (Lalita) is a south Indian belle from Mumbai who's a softie-romantic at heart and a hard-core feminist on the exterior. Easily provoked, Aditi plays the quintessential nerd who Ali Zafar (Nikhil) – an aspiring filmmaker – lovingly calls 'Lalita-pedia'. An absolute antithesis of Lalita, Nikhil is a carefree and adventurous guy who couldn't care less about matters related to the world or intellectual politics (which clearly is a subject close to Lalita's heart). So basically they have fun, release pheromones and kiss hesitantly despite the fact that Ms Rao loathes the idea of being in a long-distance relationship.
Paris
Feelings have developed; both are undeniably in love but haven't met since the passionate love-locking incident in London. Years have passed and the simple geeky Chembur girl has metamorphosed into a la-di-da French wench. Flaunting a scarlet lipstick and a Marilyn Monroe style hairdo, Lalita surprises Nikhil with her sophisticated air-kissing mannerisms. Again, they do the same thing they do best – enjoy each other's company. And just when you think that after an intense making-out session in a romantic room in Paris, things will be all hunky-dory between the two, a sudden twist transpires. Lalita gets into her sudden feminist avatar and leaves Nikhil heart-broken and craving for more (sex, perhaps), all because of an incident that has been gnawing her ever since she'd seen him making out with a firang chick.
New York
Finally a filmmaker, Nikhil who's all sorted in his life by now digs out information about his lady love again and gets all geared up to meet her in New York. Claiming to have absolutely zero self-respect, Nikhil girds up his loins to give another try to rekindle the magic between Lalita and him. Although the girl is now all set to tie the knot with someone else, she still agrees to show him around New York (how sweet). They get into yet another kissing act, this time with the idyllic Hudson River in the background. Lalita goes ahead with her decision to get married but Nikhil is no more the cool dude. He's furious at her being so impassive and labels her as the 'biggest tease in the world'.
No points for guessing the end. We would say watch London Paris New York 'coz thankfully there's no hammering home the idea of love. It's just another nascent relationship which takes its own time to evolve. The chemistry between Aditi and Ali is unequivocally cute and the emotions are palpable enough to be felt. Go watch it if you want to vicariously explore the pretty locales of London, Paris and New York, and see the two actors do a decent job. If you go with the idea of getting all mushy and weak in your knees, disappointment is all you will get.