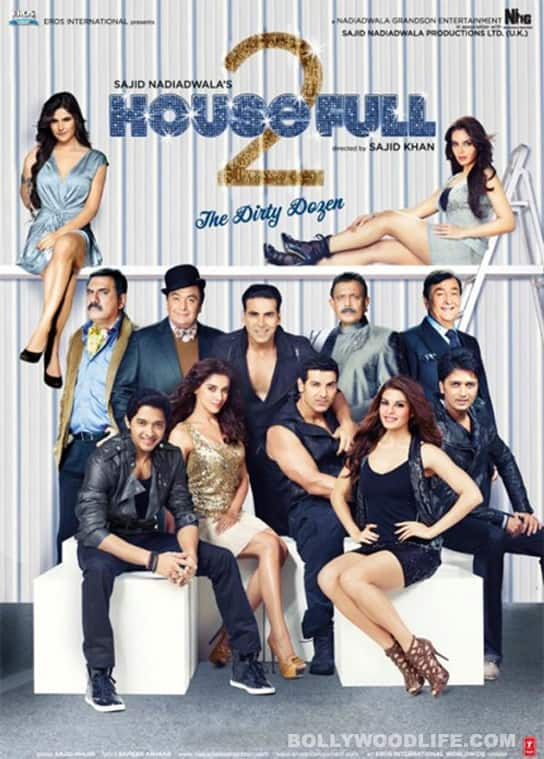 Cineswami informs us about the Mayor of London's offer to Bollywood filmmakers, including Sajid Nadiadwala, and the new Creative Sector Tax Relief in the UK
It's common knowledge that the United Kingdom is in the throes of a double-dip recession and though the British film establishment parades numbers in the billions of pounds, the truth is that most of the money comes from Hollywood productions shooting in the country. Now, the UK has always been a favoured shooting destination for Bollywood, with the late Yash Chopra's Jab Tak Hai Jaan being a recent example. Therefore it comes as no surprise that the Mayor of London, Boris Johnson, is on a whistle-stop tour of India trying to drum up some Indian money.
The Mumbai leg of Johnson's journey saw him interacting with executives from the likes of Yash Raj Films, Balaji Motion Pictures and Reliance. Johnson is deliriously happy because the redoubtable Sajid Nadiadwala, who desecrated London in Housefull and Housefull 2, has decided to shoot part 3 there. His directorial debut, Kick, starring Salman Khan will also be shot there from June 2013. The fact that the two projects combined are budgeted at Rupees 308 crore with most of the money, including post-production, being spent in London, had Johnson grinning from ear to ear at the windfall coming up for the city he mayors. Johnson freely admitted that he had not watched the Housefull movies. The last Indian film he watched was Aamir Khan's Lagaan. Clearly he is a man of taste and discernment.
Johnson found out that Indian films routinely enter the Top 10 at the UK box office, including last week when Jab Tak Hai Jaan, Son of Sardaar and Thuppakki all made the grade. In sharp contradistinction, British films never make India's Top 10 unless your name is Bond, James Bond. When Johnson asked the assembled filmi crowd what was the best way to make non-Bond and non-special effects driven British films attractive to Indian audiences, the only answer came from schlock-horror purveyor Vikram Bhatt who said that India-set British tales like The Far Pavilions and Passage To India were popular here. Johnson, who became enamoured of Kajol on a Hyderabad-Mumbai flight, promptly said that he would offer Bollywood stars top dollar to act in British films so that they attract Indian eyeballs. It was said in jest.
The Mayor also said: "I'm thrilled that Sajid Nadiadwala has chosen London as the backdrop for not one, but two of his brand new blockbusters. As our recent World Cities Culture Report shows, London and Mumbai are major players on the international stage for creativity and the arts. Filmmaking is massively important to both our cities and we need to build on the momentum that already exists. 2012 has been another bumper year for movie-making in London and I want to make it as easy as possible to film in the city, whether you want to feature an iconic landmark as a backdrop, take advantage of our second to none post-production facilities, or be amongst the first to use our incredible Olympic Park as a location."
Also taking part in the summit was David Parfitt, the renowned British producer (Parade's End and Shakespeare in Love) and Chair of Film London. He said, "London is the heart of the UK's film industry and home to some of the world's best crew and facilities. We have a fantastic track record of successfully facilitating Indian productions that have shot in London and we want to build on this work for the benefit of both of our industries. It is an honour to come to Mumbai, the centre of India's film industry, with the Mayor of London to meet with the industry and to announce two new films that will shoot in London next year. With the support of the Mayor, Film London and incoming tax relief for animation and TV, I hope we can encourage more Indian productions to come to London in the future."
So, Londoners, prepare for another Bollywood wave.