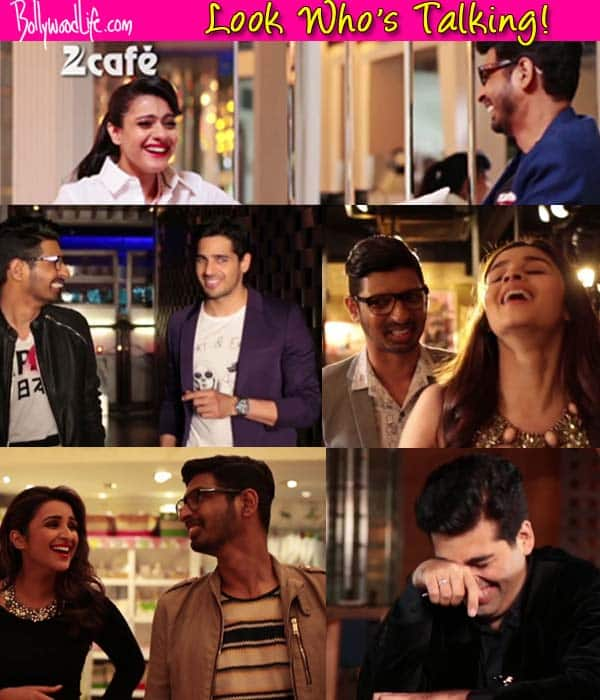 Niranjan Iyengar is ready to reveal the unseen side of our Bollywood stars
Alia Bhatt, Sonam Kapoor, Kajol and Parineeti Chopra will be seen in a  never seen before avatar. Yes, that's what dreamer, writer and artist Niranjan Iyengar, who has spent over two decades knowing our glamorous stars up-close and personal, is coming up with a unique show Look Who's Talking on Zee Café. And here are three things we loved about the first promo of the show…
Unique set up: Unlike a usual TV chat show, this is no studio set up. In the promo, You see Kajol sharing a hearty laughter and high five on a chic white couch with the host,  Sonam Kapoor's warm hug, Parineeti Chopra's sweet smile, Alia at her giggly best and the dashing Sidharth Malhotra's walk the talk.
Kodak moments: With lots of smiles and giggles that these stars share with the host, be ready for ample of happy Kodak moments on the show. Not like Koffee With Karan, where the celebs are often on their guard and nowadays well equipped to take on KJo's tricky rapid fire. Even Karan Johar is seen laughing uncontrollably, something you might have not seen despite his presence on the tube.
A non filmi host: We've seen many Bollywoodwallahs take the host's seat, but Niranjan is different. He's well known in the film fraternity and yet has a connect with the common man. Like he says in the promo, "A lifetime spent in the movies, living it, breathing it. It's been a magical journey for over 20 years. The connections we make stay forever." And we're sure that it is the lesser seen side of these actors and filmmakers that will be on display when he converses with them.
BollwyoodLifers, here take a look at the Look Who's talking promo and do catch the show in August every Sunday night at 9 pm on Zee Café!
[flv image="http://st1.bollywoodlife.com/wp-content/uploads/2014/07/look-whos-talking-11.jpg"]http://st1.bollywoodlife.com/wp-content/uploads/2014/07/promo.flv[/flv]