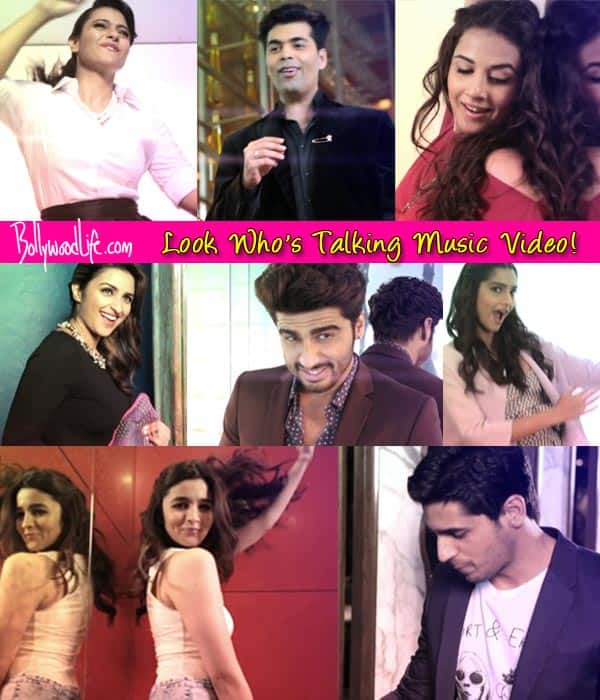 Very few are fortunate to get stars dancing to their tunes, but Niranjan Iyengar is certainly one lucky guy!
Kajol, Alia Bhatt, Parineeti Chopra, Sidharth Malhotra and Karan Johar dance like nobody is watching. No, this is not a choreographed act, at least to our eyes it looks like the most fun original moves by our tinsel town stars. And after watching this candid super fun video we cannot wait to watch the chat show that will go on air on Zee Café from August 3. While we still have to wait for our stars to give us a sneak peek at their leser seen side, we give you three reasons to not miss this music video…
Kajol's sexy moves: Well, she has stayed away from the silver screen for quite sometime now. But, every appearance she makes at events, dos or then on talk shows, we cannot wait to see her comeback and entertain us on 70mm. Like in her films, the bindaas Kajol delivers a a performance that will leave you smiling. Her moves are sexy and wants you to beg and plead her to accept a film offer as soon as possible.
Alia Bhatt's raw appeal: The 2 States babe is certainly the next star. While many compare her to Kareena Kapoor Khan, we agree that the duo have something in common and that is the raw appeal. So, when Alia comes on camera you know what we are talking about.
Karan Johar's jig: That KJo grooved on dance reality shows is nothing new, neither the fact that he shot a special number for the fourth season of Koffee With Karan. But, when you watch the Shhuddhi maker have a blast in this music video.
Here take a look at Bollywood stars get groovy in the Look Who's Talking music video…