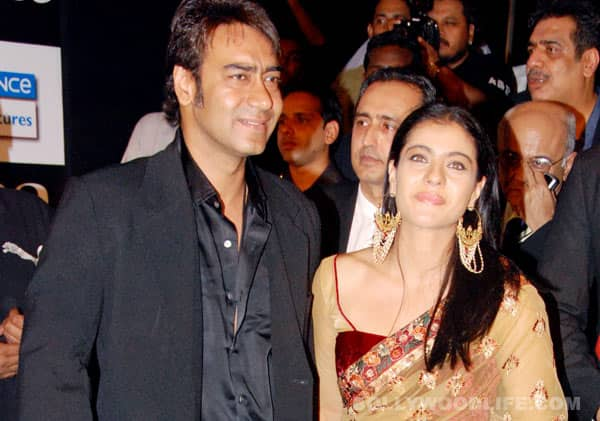 Update:
On Monday night, the Juhu police arrested Gayatri Devendra  and Santosh Pandeyfor stealing 17 gold bangles from Kajol and Ajay Devgn's Juhu bungalow. The two had been doing the cleaning work outside their house for the last two to three years. The Devgns hired the two for a few days for cleaning the house for Karva Chauth celebrations. The bangles were stolen on October 19, but it wasn't till three days later that Kajol discovered the 17 pieces missing from a drawer while getting ready for the celebrations.
Previous story:
Someone has cast the evil eye on Ajay and Kajol Devgn's paradise. In a second incident at the Devgn mansion, 17 bangles were stolen, marring the actor's day of joy….
Kajol, the proud mother of Nysa and Yug has been in a happy marriage with Ajay Devgn for some years now (touchwood). But over the past few months Kajol's joy has been marred by unforeseen incidents. She was recently very upset when she discovered that gold bangles worth close to Rs 5 lakh were stolen from the family's Juhu mansion. This is the second robbery to rock the Devgn paradise. What dampened the mood even more was that some of these ornaments were gifts from hubby Ajay and held immense sentimental value for her.
That the gold bangles were missing was noticed on October 22, when Kajol was getting ready for the karva chauth celebration. The Devgns suspect that an insider could be involved in the theft and have lodged a complaint with the Juhu Police Station. Confirming the theft, Kajol's mother Tanuja said, "Yes, it's true that Kajol's bangles were stolen." A source close to the family said that robbery really ruined Kajol's karva chauth.
While the actor has all our sympathies, we cannot help wondering about security systems in a home that large and with so many celebrities living in it. But we hope the thief is caught soon and Kajol gets her jewellery back. It is pyar ki nishani, no!