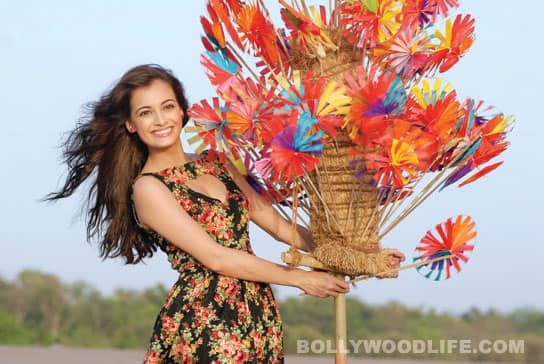 Love Breakups Zindagi is a lighthearted take on modern-day urban relationships in India, but it is lifeless due to weak characters and an unimaginative script
Romance is the most abused genre in Bollywood. No wonder it's a challenge to bring in freshness to the subject. And that's what's is missing in Zayed Khan, Dia Mirza and Sahil Sangha's first production – Love Breakups Zindagi.
The film's opening scene is of Jai (Zayed Khan) and Naina (Dia Mirza), at their respective homes getting ready for the day. And you know it's a story about two people like you and me, beautiful, successful, independent and happy individuals.
But you are wrong, they are not exactly bubbling with enthusiasm. Jai, a marketing executive in Delhi, is a victim of the popular myth that opposites attract, thus dating a bossy and complete opposite girl Radhika (Pallavi Sharda). Meanwhile Naina, a photographer in Mumbai, is of the belief that no relationship is perfect, thus trying to be satisfied with her workaholic investment banker boyfriend Dhruv (Vaibhav Talwar).
Fortunately they have a couple of good buddies. Jai has Arjun (Satyadeep Misra) and Naina has Gayatri (Auritra Ghosh). Childhood lovers Arjun and Gayatri are getting married in Chandigarh. Obviously Jai and Naina are invited and that's where they meet. Everything you have read or watched about what happens at wedding functions, happen. Sparks fly, friendships form, but it's a little short of blooming into love, 'coz both are in a committed relationships.
Meanwhile on the sideline another interesting love story is blossoming. Jai and Arjun's friend Govind (Cyrus Sahukar) is twice divorced, but doesn't shy away from girls. He hears a 'ghanti' (bells ringing in the heart) the moment he spots Arjun's aunt Sheila (Tisca Chopra). She is an Urdu professor at Jamia Milia university. Coincidentally she too feels some kinda attraction for the 'off-centre' Govind.
Arjun and Gayatri's wedding turns out to be fun as everyone expected, though slow for the viewer. It seems like you are watching your own wedding video filled with music, dance and food, but here you don't have the option to fast forward it! Everyone returns to their respective cities post the ceremony. But love holds no bar. So Jai takes off to Mumbai for work and decides to catch up with Naina, meanwhile back in Delhi, Govind is having coffee dates with Sheila. And as Shahrukh Khan who plays himself in the film, says, "Eventually in life and films everything has a happy ending".
The first half is very slow and insipid, but the second half saves you from falling asleep. Full marks to music composers Salim-Sulaiman and lyricist Javed Akhtar for the soulful songs, cinematographer Aseem Bajaj for some excellent camera work and the location hunters for picking out picturesque places to shoot. What doesn't work are the weak characters and an unimaginative screenplay. Jai-Naina and to some extent Govind-Sheila are the main characters of the film, but you don't really know them enough to feel connected. You are thrust upon their emotions without not really knowing who they are and where they come from. Would you really laugh or cry for someone you just met for the first time?
Being a love story you know what will be the scenes – first meeting, first date, falling in love, etc – but it is the writer's job to ensure they are real, appealing and novel. Originality is one of the biggest driving forces of this genre and that is largely missing in Love Breakups Zindagi. For instance, you have seen many movies where a father behaves crazy when his daughter's boyfriend or prospective boyfriend comes home. A similar situation arises in the film. Govind lands at Sheila's doorstep and he is welcomed by her retired army officer dad (Boman Irani). He lets Govind in and immediately gets a rifle on the pretext to clean it up. Then Sheila's father starts questioning Govind and the gun is pointed at him throughout the conversation. Obviously he gets nervous, but is rescued in time by Sheila. Haven't you seen it before?
Even the dialogues lack chutzpah and tend to be corny at times. Like Jai in serious tone says to Naina: Tumhe kabhi bhi support chahiye, silent and strong type, main tumhare saath hoon (If you ever need support I am there, standing silent and strong). Or when Naina says to Jai: Thoda hain, thode ki zaroorat hain (We have a little and we just need little more). Sahil Sangha, the writer and director, has tried to keep the film's tone light, but the humour doesn't always bring a smile on your face.
In terms of acting, handsome hunk Zayed's chilled out guy-next-door act fails. However Dia does show some spark, but it is overshadowed by her gorgeous beauty and stylish costumes. Her stylist has done a fab job of making her look her best. Shahrukh Khan, Riteish Deshmukh, Shabana Azmi and Boman Irani play small parts and seem merely adding star value to the film. From the rest of the cast only Cyrus Sahukar and Tisca Chopra manage to make an impression. Newcomers Satyadeep Mishra, Auritra Ghosh, Pallavi Sharda and Vaibhav Talwar have wafer-thin roles, thus they don't really stay with you when you walk out of the auditorium.
First time director Sahil Sangha makes an honest attempt to make the film, but next time he should leave the writing to someone else. Love Breakups Zindagi is like a beautiful hand-blown bottle studded with Swarovskis, but filled with a watery wine.