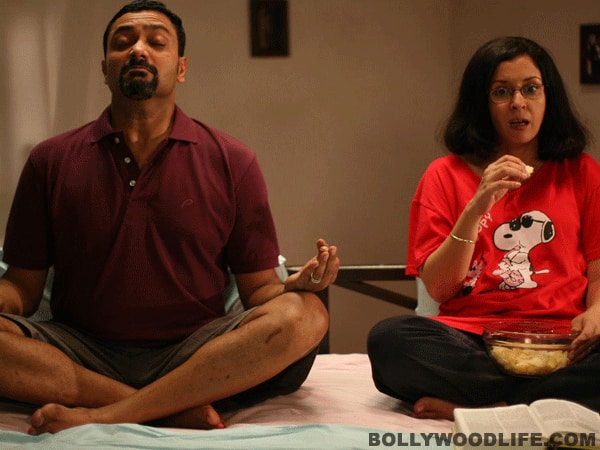 Sandeep Mohan's directorial debut is commendable, despite the few stray ends that he leaves to the viewers' imagination
Love, Wrinkle-free is an indie film by director Sandeep Mohan, that wouldn't have been released in the theaters, if not for PVR's Director's Rare arm. A slice of life film set in Goa, LWF is about the Monteiro family and the crisis which they are dealing with. Bollywood has had its share of coming of age films, but this is probably one of the good coming of middle age films. What makes this film a delight to watch is the pitch perfect casting.
Savio Monteiro (Ash Chandler) is a manager of an underwear company and his wife Annie (Shernaz Patel) has a restaurant to take care of. Their adopted daughter Ruth (Arika Silaichia) is dealing with her identity crisis, while her parents are coming to terms with the wrinkles in their lives, not just literally, figuratively as well. The young filmmaker sets the tone for his film with the opening sequence itself and doesn't waste time in taking the story further.
Savio is trying to save his career and give it fillip with his unique idea of making and selling edible underwear that too in Goan flavours. Annie is trying hard to retain her place in the local church choir, but isn't finding any success. Ruth is an overgrown child with a wry sense of humour and is trying to figure out how she can feel at home in her own home. To make matters worse she has a Tibetan boyfriend Tashi, who doubles up as a help at her mother's restaurant.
The Monteiro household is dealing with life with their quirky sense of humour when all of a sudden they come to know that Mrs Monteiro is expecting a baby. When the doctor first breaks this news, Savio looks shocked and asks how? Annie is overjoyed about finally having her own baby, but Ruth is dealing with her own demons and doesn't care much about the new arrival.
Rajiv Bhatia (Theron C.) and Natalie (Seema Rehmani) who initially seem to be a couple enter the lives of Monteiros and add to their miseries. By the interval point you are so invested in the lives of all the characters, you might not want to leave the auditorium. Savio is a messed up man and he doesn't want to give any stress to his expecting wife. He loses his job, he is robbed of his money and the only person who can help him is – Bruno Corrieo (Sohrab Ardeshir) a closet gangster who runs a night club. Bruno's son Jacob (Ashwin Mushran) is a drug addict who has just come back from rehab and is commissioned to help Savio.
Love, Wrinkle-free is about what happens when all these characters come together and how they come to terms with the problems life has thrown at them. Watching Savio and Annie together is a treat in itself, as they look like a real life couple who are being filmed without their knowledge. Goa looks more beautiful because of the impressive cinematography and the editing makes the film watching experience even better. Best thing about LWF is that it is not gimmicky and everything about the film is real. Even the music isn't forced, which is a rare case in the times of item numbers et al.
The ending of the film might leave you somewhat unsettled because of the loose ends, which the director has probably left to the imagination of the audience. The characters played by Seema Rahmani and Ashwin Mushran are a little hard to understand, especially towards the finale, but they are likeable with all their flaws. There is no doubt that Sandeep Mohan is a good storyteller with a unique voice and we expect a better film next time. Do watch this coming of middle age film this weekend; you will not regret!
ALSO READ: 'Love, Wrinkle-free' trailer: Madness unplugged
LOVE WRINKLE FREE quick movie review: Cute indie film sans gimmicks!