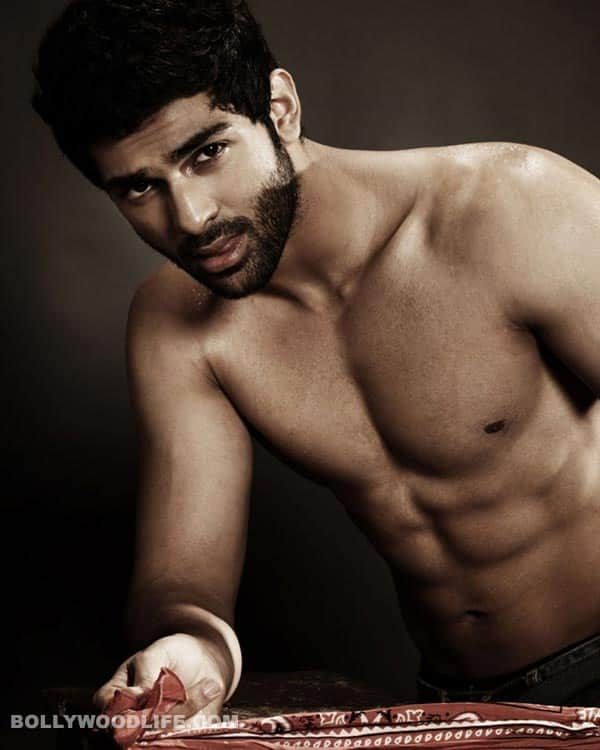 Few people have had it as good as Taaha Shah. The hunk debuted in Yashraj Films Luv Ka The End, while he is following up with a smashing role in Dharma's Productions' next project titled Gippy.
At a time when Bollywood is teeming with debutants, Tahaa Shah – the dashing young actor who has had illustrious brushes with fame as he debuted in last year's Yash Raj films' teeny-bopper flick Luv Ka The End, stands apart. After the confident debut, the young turk is all set for his next venture, that is again a big ticket project. We talk to Tahaa about competition, his new film and being eve teased by girls
You've had quite a time in the last year; a debut with Yash Raj films and the next with Karan Johar! Tell us how it came to be?
Well, I met Karan 12 months ago when I was standing on the 4th floor of Yash Raj studios, outside Adi sir's office. I saw Uday and Karan walk walking across and taking the lift. I was stunned at first and cursed myself about why I didn't talk to him. So I ran down four floors and just screamed as I caught up with him. All out of breath, I introduced myself and asked him if he saw my film. He said he hadn't but still, we exchanged numbers. And I told him he should see my show reel. Well, that what that. And then twelve months later, an assistant director friend of mine told me that Karan Johar was auditioning for a new film. I went in and it seemed they liked me. I had it what they wanted in the character, so I was in!
That was quite a move, running out to meet KJo!
Well, all through my time in Mumbai I have known that one should grab chances that come. Otherwise I can easily say that I saw Karan Johar walk past and I didn't go and introduce myself, or say a hi. I would always have that feeling of regret. And probably he remembered me from back then and when he saw my audition, it must have clicked. I don't know! But I'm a go-getter and I believe that one should act instinctively and take a chance rather than regretting later.
Commendable! But with the crop of new actors coming in almost every month, how do you stay ahead of the competition?
It may sound funny, but I think for like 20 minutes every day. It is like meditation, in a way but the difference is that I focus on the problem at hand. So if I have a decision to make, I never rush in. I give it 20 minutes at least and think through, from every angle. Because, at this early stage in my career I cannot afford to make a wrong move. Decision making is very crucial, and making the right decision is a survival instinct.
That some focus! So tell us about the new film that you're doing with Karan Johar?
It's a very sweet film about a fifteen year old girl called Gippy and how she falls in love with the hunk in her school. I of course play the hunk! (laughs) But the movie is really about how Gippy is at that point in her life where she is getting to know about love, what sort of decisions she makes, and how she tries to understand the changes in her life. It's more about how at such a sensitive age, a young girl deals with it and is said from her point of view. It's a very real situation if you go to see!
It sure is. Has it ever happened to you? Were you the school hunk whom girls fawned over?
(Laughs) Actually, yes. I was in school in Dubai, and in high school I had a couple of girls who actually did that sort of a thing. And they were quite forward really. I think they were a couple of years younger than me and they actually threw notes at me! I was quite surprised to be honest. It said stuff like; 'I think you're really cute. What's your phone number?' And I was like, what! I would quickly scribble a Thank you and just blush it out! I mean, those Arab girls were really ahead of their years! (Laughs)
Wow! Anyway, tell us a bit more about the film. Where all did you guys shoot? How was it on sets and all?
I can't say too much, but we shot in Shimla and in Mumbai at Madh Island for one song sequence. My favourite part was the Shimla one, of course. We were like out there in the wilderness and it gave me loads of time to think. My director Sonam Nair was just great about it all. Although it is her debut, she helmed the project like a total veteran! She has a great understandinbg of characters and gave us a lot of space and was very patient with us on sets, when we didn't get something right. Plus Gippy is being played by a pretty young girl and it's her first film as well. So it was a very young cast and a lot of fun.
What do you plan to work on next?
Well, I think this film with hit the screens in Jan next year, although I can't be sure as that is a decision to be made by the production house. But next, I really want to do an action film. I want to kick some butt on-screen! I have flirted with enough women now! (Laughs) Really, I have trained in Taekwondo, Parkour and other martial arts and I really want to display these skills and do a hardcore action film the next.