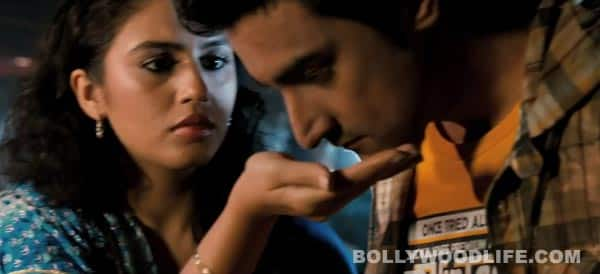 Director Sameer Sharma's directorial debut is a gourmet caper and leaves a wonderful aftertaste of love, belonging and real Punjabi humour
It's not just the South Indians who have been featured. Over the years, Punjabis have been caricaturised in many Bollywood films. Anurag Kashyap's latest food-based film manages to undo the damage. The credit of this goes to debut director Sameer Sharma who along with his co-writer Sumit Batheja has cooked up a scrumptious entertainer – Luv Shuv Tey Chicken Khurana. Kunal Kapoor and Huma Qureshi play the leading pair and their chemistry is simply amazing.
The trailer makes it very clear to the audience what to expect from this culinary romp. Omi Khurana (Kunal Kapoor) is neck deep in trouble as he owes 50,000 pounds to his loony gangster brother who is baying for his blood. The only way he can repay his debt is by going back to his village in Punjab and somehow arranging for the money. Chicken Khurana is a priceless secret recipe that was once very popular, but as Omi's darji / grandpa (Vinod Nagpal) has lost his memory due to old age, nobody else knows how to whip up the chicken delicacy in the same way.
When Omi was a young lad, he stole his darji's money, left a 'sorry' note for his love Harman (Huma Qureshi) and went to London. His comeback to the Khurana household creates an awkward situation for his uncle (Rajendra Sethi), but his aunt and cousin brother Jeet (Rahul Bagga) still love him. Omi pretends that he is a successful lawyer in London and that he is back just to catch up with his family after ten long years. The innocent family buys into his con and, being large hearted Punjabis, welcomes Omi back, unaware of his ulterior motives.
Harman is unofficially engaged to Omi's cousin Jeet, but deep down inside still loves Omi. Though she knows that Omi is a very selfish man, she isn't able to get over the fact that he was her first love. Initially she doesn't show any interest in her one-time boyfriend, but soon succumbs to his dimpled charms and helps him in his search for the secret recipe. One of the most romantic moments they share is when they are celebrating the Lohri festival – Harman calls Omi 'kanjar' (lowlife) and in return he calls her 'kameeni' (mean), all while they discretely smile at each other.
This sets the tone for the rest of the film and somewhere deep down you know how it will play out. That is where the genius of the writers kicks in – LSTCK is not about Omi finding the secret recipe, but about how he finds love and and what he finally does with it. Smartly written and brilliantly performed by most of the cast (other than leading man Kunal), this film owes a lot of its entertainment value to its supporting cast. Rajesh Sharma as the loony, blunt Titu mama steals the thunder in every scene that features him. Sharma is fast becoming a permanent feature in Kashyap's productions and it is good to see him sink his teeth into well-written roles. Luv Shuv… has a bunch of very quirky characters. A standout is Dolly Ahluwalia as Buaji, the revered Godwoman.
Music by Amit Trivedi and lyrics by Shellee adds dollops of authenticity to this Punjab-based caper. The way rustic Punjab has been shot is highly commendable and lends visual freshness to the film. Deftly edited, LSTCK has a very unique pace. While the first half leisurely establishes its characters and their motivations, the second half is a laugh-a-minute riot where you can't stop clapping or guffawing.
Luv Shuv Tey Chicken Khurana is a scrumptious ride through rural Punjab, with a look at some real people, a taste of Punjabi hospitality and an aftertaste of love, belonging and genuine Punjabi humour! Don't be surprised if you are tempted to rush to the nearest dhaba to indulge in some chicken immediately after watching this feast of a film!
Rating: 4/5
* Poor – Avoid!
** Average – Give it a shot if you are desperate!
*** Good – One time watch!
**** Very good – Must watch!
***** Excellent – Don't miss!
ALSO READ: Kunal Kapoor: I want to play the bad guy