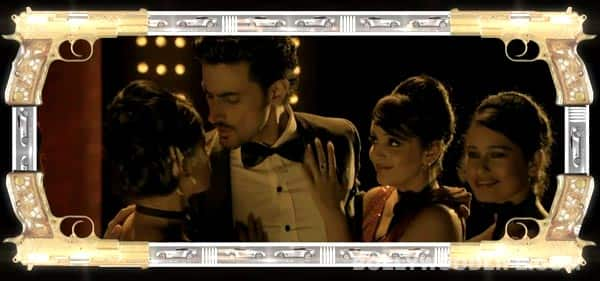 The long, tall and handsome Kunal Kapoor turns into James Bond while Huma Qureshi is cute and more than pleasantly plump!
The new song from Luv Shuv Tey Chicken Khurana is what we would call rural-pop, or Haryanvi-pop. It starts out as a simple country number with an elementary six-string rhythm, continues to become a Haryanvi ballad later on, and finally settles in as a proper amalgamation of pop and Haryanvi. Overall it's a fun, peppy number with hilarious lyrics and a super original composition by Amit Trivedi, who has also sung the song with Tochi Raina.
Kunal Kapoor looks more rugged than sleek dressed like as a desi James Bond as he evades the mafia in the song. While Huma Qureshi, for all her cuteness, looks a tad bit out of shape! We understand that she is in the character of a homely Punjabi girl, and that the role may require her to put on pounds, but couldn't she at least have dressed better? The long black dress/robe makes her look more…err… 'healthy' than she actually is. It looks like any moment Lord Voldemort will summon her and ask for his party robe back!