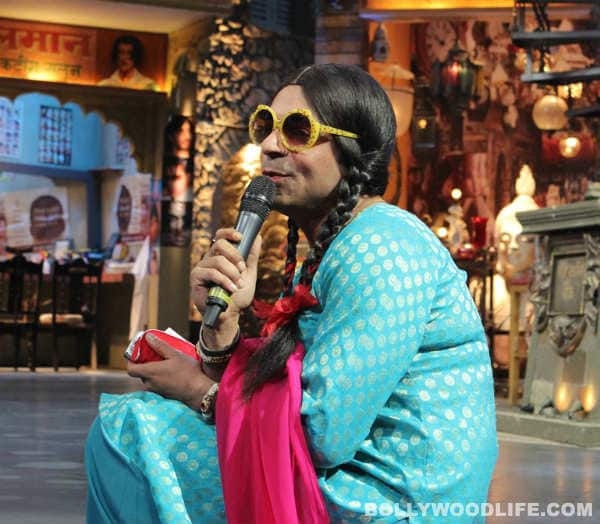 People have a lot of expectation from Gutthi aka Chutki aka Sunil Grover's comic show on Star Plus, but did the comedian deliver… not nearly enough!
Mad in India 100% Desi Show, which began on February 16, commenced with much fanfare as promised. The show claimed that it would be different and will not concentrate on just Bollywood. Now that's interesting, we thought, but apparently it was just a ploy.
The show started off with Manish Paul's grand filmi entry and we loved it. He looked dishy and his comic punches were simply perfect. He welcomed everyone with his one-liners, selected judges and then called in the guest. This was Sunil Grover's entry as a politician. What continued was a one on one with Sunil in the skin of a corrupt politician. While the questions were more or less decent it was the retorts that left us rather cheated.
Sunil's reputation precedes him, so does his comic work then what went wrong here? Can Mr Grover joke only when he is dressed as woman? Well then I think the channel may have a big problem. His jokes were dead, not laughter inducing and some just left you wondering 'why the hell am I even watching this show'.
Gladly that didn't take very long and Manish introduced his first guest on the show, Baba Ramdev. Frankly, that seemed to be the only entertaining part of the entire show. Although Manish responded to all of Baba's queries with some quips from the movies – of course that was the intention we assume – he was entertaining. We saw a side of the yoga guru (not literally) that usually doesn't come in the forefront very often.
With Siddharth Jadhav's entry the show picked up pace followed by Chutki (Sunil Grover). She started with a good punch and the rest failed to reach target. The rest of the cast was introduced in the most depressing manner. We missed Shweta Tiwari in the first episode. Wonder why the babe was not present for the opening act. We were forced to remember Gutthi from Comedy Nights with Kapil, which was way more entertaining and made you roll on the floor laughing. Mad in India lacked the madness, zing, punch, tadka and the desi effect.
While we are extremely disappointed, we hope the show picks up pace soon. The makers promised to not get too filmi, yet their next episode has Govinda and Karisma Kapoor. Guess Bollywood may just save the show from the trenches.
All in all, Manish Paul did a decent job, while the rest including Sunil did not manage to induce any laughter.
Rating:
out of 5
Reviewed by Letty Mariam Abraham
* Poor
** Average
*** Good
**** Very good
***** Excellent