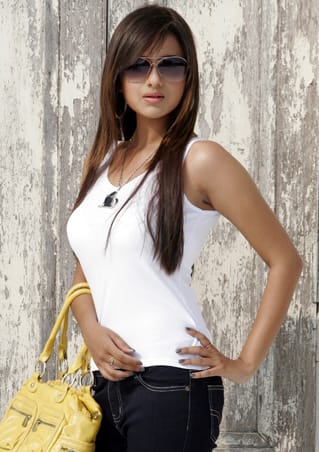 The Angel actor gets candid about her struggle, her co-star Nilesh Sahay and her unusual name
It doesn't take long to know what Maddalsa Sharma's favourite word is. It's different. No, no, the word itself is 'different'. Ask her about her debut movie Angel, and she says it's "different", plus her character is "different" and her name? You guessed it, it's "different". Though saying the same thing doesn't really 'differentiate' her from other starlets. What does is the fact that she has essayed a deglam role of a cerebral palsy victim in her very first Hindi movie.
"There are many good-looking faces in the industry, but very few good performers. I want to establish myself as a good actor. I was waiting for the right role and when Ganeshji (Acharya) narrated the script to me, I knew I had to do it." That answer is as good as 'world peace', but she spoils it when she adds, "People are already comparing me to Hrithik (Roshan, Guzaarish) and Rani (Mukerji, Black) after my first film itself." Really?
Sitting prettily in black sleeveless top and black leggings in the drawing room of her 7 Bungalows home in Mumbai, Maddalsa confesses that it was her childhood dream to become an actor. "Acting is my passion. I studied under Kishore Namit Kapoor when I was in Std X. I always knew this is what I want to do, with my mother (Sheela Sharma) being an actress and my father into production. I believe acting is about make-believe: making the audience believe something is true when it is not. It is my life. If I don't act, I cannot do anything else."
She admits that enacting a character who is not their 100 per cent has changed her. "For two weeks, I met cerebral palsy victims at Nanavati Hospital. I would observe how they moved, how they lived, so I can do justice to my character. The whole experience was depressing, but it also made me a softer person and made me realise they don't need us to sympathise or pity them. They are happy in their lives."
Maddalsa has big dreams. "I want to do meaningful cinema, like the films Yash and Aditya Chopra, Sanjay Leela Bhansali, Abbas-Mastan, Rajkumar Santoshi make. I would work with new directors too, if the script is good. The script is what matters," she says.
The one actress she admires, other than her mother, is Madhuri Dixit. "She is beautiful, graceful, an amazing actor and a very good dancer. She is a complete actress." She names Madhuri's Tezaab as one of her favourite romantic movies. "I also love Khamoshi and Hum Dil De Chuke Sanam," she adds.
When she is not shooting, Maddalsa spends her time indulging in her hobbies – driving, dancing and gymming. Yes, she actually loves to work out. "You can eat whatever you want so long as you work out. And drinking water and juices is very important to maintain fitness," she says. "I love to dance. I spent four years with Shiamak Davar's troupe and two years with Ganesh Acharya's troupe. I know Mohiniattam, Kathak and a host of other dances. When I am not shooting, I catch a dance class. I also love to drive. I have no problems in driving from one end of the city to another -so long as there's no traffic."
Finally, Maddalsa solves the mystery of her name for us. "According to Hindu mythology, Maddalsa was a princess, a goddess. It is also another name for Goddess Laxmi. Anyway, all my friends call me Mitthi."