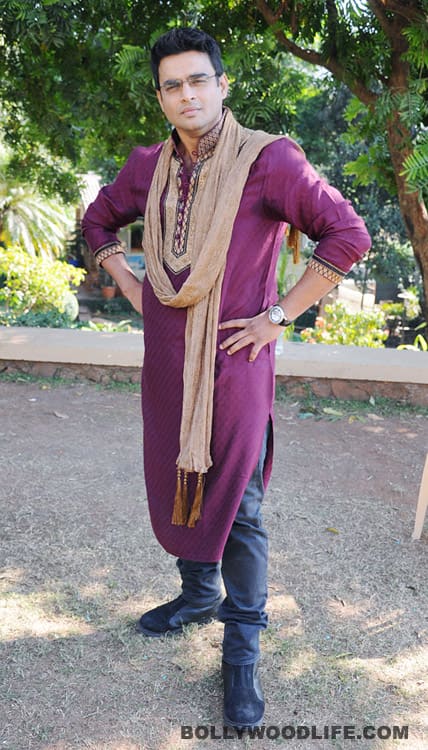 R Madhavan has signed another drama woven around romance. And it is the magical love that he creates on screen that gets the south superstar a fan following in the Hindi film industry. However in a candid chat, he says that is one thing he definitely wants to change
After playing the sacrificial and silent lover in Tanu Weds Manu, Maddy will be seen in a romantic drama to be directed by Ashwini Dheer. Right now, the filmmaker is working on the script and as soon as it's ready, the shooting will begin. Bipasha Basu is slated to play Madhavan's love interest.
Despite successfully playing a student (3 Idiots), a journalist (Guru) and an air force officer (Rang De Basanti) Madhavan's most impressionable act is of an ideal lover. In times when everyone, from Shahrukh Khan (Don 2) to Aamir Khan (Dhoom 3) is itching to play the bad guy, Madhavan's still the lover-boy! Isn't he bored with his charming and cute image? Maddy breaks into peals of laughter, "I am waiting for this charming cute image to wear off one of these days because I am hardcore 40 and I need to be taken seriously. (Laughs) I am not the boy you can take home to your mom anymore. I think if I get a role like that I will definitely be able to take it up."
"Down south, I am known to do these kinds of roles. Like in the Tamil version of Yuva I played Abhishek's (Bachchan) role. And it's a far more brutal version than the Hindi one. My wife and all the female fans hated me."
However some flops, some solos and some ensembles – but Maddy is a pleasure to watch on the big screen. But his fame is nothing close to what he has down south. Is he content with the Hindi film offers?
"You know, I have answered that question so many times that it's boring," he wants to evade but goes on to answer, "I have always done only one film at a time. There are enough and more offers coming my way… To answer your question, no, I don't have a bungalow in Juhu yet. No, I don't have a private jet and I am not going by helicopter to my shoot, so that way I am terribly disappointed. But I have received enough and more from peers and colleagues. After 10 years, I have the power to command a market here and in the south. That itself is a very cushy place to be in."
That apart, Maddy sees no harm doing ensemble films. "Rang De Basanti and Guru have augured well for me. And I was the third idiot in 3 Idiots. I would any day be part of 3 Idiots than do a solo film at the cost of that…. It is a great thing to be a part of a good film even if it is in a small way."
Maddy is one of the good actors around but unlike many of them, this southern superstar is constantly criticised for his bulge. So, doesn't he fear the young actors with better bodies? Surprisingly he negates any insecurity. "There are a lot of people with six-packs who are nowhere in the industry. And there are by and large people all around the world who are liked because they come across as real," he explains.
But he insists he is not averse to modifying his body for a role. "In Yuva I had a mean ass body…. In 3 Idiots I had to look like a student and in Guru I had to have a lean mean hungry look. It's (losing weight) not something that I enjoy doing but if it needs to be done I will do it. That is not the be all (of it). Otherwise, all of Aishwarya Rai's spectacularly brilliant films should work. Five minutes into a film and the beauty has been exploited. There has to be more than that."
It's been over a decade in the industry. How has people's perception about him changed? Pat comes the reply, "It's just got a lot more affectionate for me. After 3 idiots especially, any Indian, Sri Lankan, Bangladeshi, or Pakistani I meet, there is a sort of brotherhood that comes into the conversation immediately, which is very nice. For me it is very warm. I go to some strange part of Russia and meet a Pakistani; he meets me like he knows me. This, I feel is my biggest earning. Mein life mein kabhi gareeb nahi hoonga (I will never be poor in life). I am sure of that."
Well, we couldn't agree more! As long as Maddy manages to continue creating magic on screen, we are sure that his fan following in the Hindi film industry will only grow.