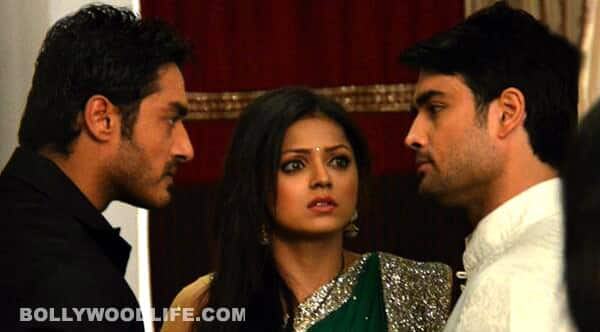 Sultan has stooped to a new low to get Madhu in his life, but will he succeed?
Sultan (Avinesh Rekhi) has threatened to kill Rishab Kundra (Vivian DSena) if Madhubala (Drashti Dhami) does not divorce him. Initially she opposed the idea and asked Sultan to go to hell, but when he acted on his threats, Madhu had to agree. So now the track is, after spending a romantic night under the stars, the couple is forced to split as RK's bail gets cancelled. Madhu meets her hubby in prison and tells him that she wants a divorce. Heartbroken and angry RK yells and calls her names, but finally agrees to sign on the dotted line.
Both RK and Madhu are in tears, while their respective families are shell shocked. Sultan on the other hand is rejoicing his victory. Everything is going according to his plan – or so he believes, but we smell something fishy. RK signs the paper too easily and Madhu gives up too fast. Wethinks, this is just a smart and well-crafted plan by the couple to expose Sultan in the open. Once Sultan's side is exposed, Madhu and RK will reunite.
However, if the divorce is not fake and they do separate, we as fans are going to be quite upset. Rishabala will be miserable without each other and the viewers without them. One thing we know for sure is that Madhu will never love Sultan as long as RK is alive, but what if the baddie kills our hero? Keep watching this space to find out more about Madhubala Ek Ishq Ek Junoon!