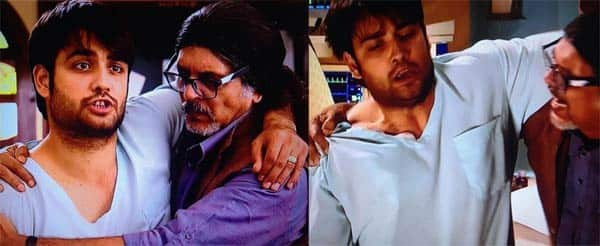 It's definitely not a matter to laugh when someone is gravely injured or paralysed, but Rishab Kundra makes it seem so funny
In the recent episodes, we witnessed RK (Vivian DSena) gets partially paralysed after being stabbed in the chest. Considering he is a superstar in the show – this accident will surely hamper his work, no? However none of that happened. After recovering from the hospital, though still partially paralysed – RK coolly walks into the studio to finish his movie. Guess they will incorporate an accident scene to fit their movie. But until then RK seems to be perfectly singing and dancing for his shots – how we wonder?
Frankly, we fail to understand how a person who is partially paralysed is able to move so much so easily. The only time he faces trouble is when he has to pick up Madhu (Drashti Dhami). The dude walks down stairs often forgetting that his one hand has lost its function.
We took some help from our health expert who said; ideally semi paralysis is a condition where a person suffers from immobility or unsuitability of a partial part of the body. It can happen due to a blood clot that leads to internal bleeding and therefore a loss in nervous function and ideally it is difficult to recover but can happen. In Madhubala Ek Ishq Ek Junoon's case, the knife probably severed some nerves in his spine or the lack of blood to the brain would have caused the paralysis. Ideal way to recovery is that the person needs to get treated for the stab wound first, then start physiotherapy for that side of his body. It will help the person strengthen the muscles and over a period of time he may be able to regain some function. So does the person recover with a shocking event? That is not possible.
In the upcoming episodes, RK will suddenly recover from his so-called partial paralysis trying to save Madhu. Clearly the makers haven't done their research about the condition. Every time we see Rishab, it makes us laugh 'coz the actor often forgets that he is supposed to showcase immobility. Guess the stab wound caused him momentary amnesia as well.