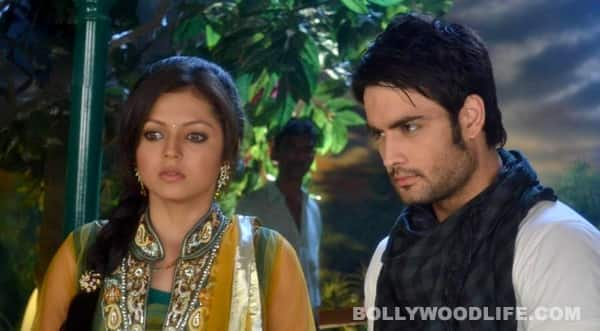 There's no love lost between the lead pair of Colors' popular show and it is a full-on war
Madhu (Drashti Dhami) and RK (Vivian DSena) are at each other's throats in Madhubala Ek Ishq Ek Junoon. So far only RK seems to be winning the battle, even though Madhu tries really hard to give it back to him.
Well, she's heartbroken and is going to take some time to come out of it. And we shall patiently wait for it to happen – not too long though. Thrown out of RK's mansion and his life, Madhu has gone back to being a hairstylist – remember the job she did before her life turned full 360°? We don't know if she's any good at the whole hairstyling business and with Rishab constantly picking on her, things are not going to be any smoother.
RK hates Madhu or so he likes to believe, and will do just about anything to put her down. Don't know how long she will continue to take the heat from her ex-hubby, but it looks like she may break down any minute.
However, we expect her to soon rise from the shambles of a broken marriage and become a star… tick tock tick tock – the clock is ticking and our patience is wearing thin. The makers really have to speed it up, no? If you ask us, Madhu should consider quitting the job as the hairdoer and give RK a taste of his own medicine by becoming a bigger star than him. Now wouldn't that be fun!
Seeing RK being beaten at his own game is something we are looking forward to, aren't you?