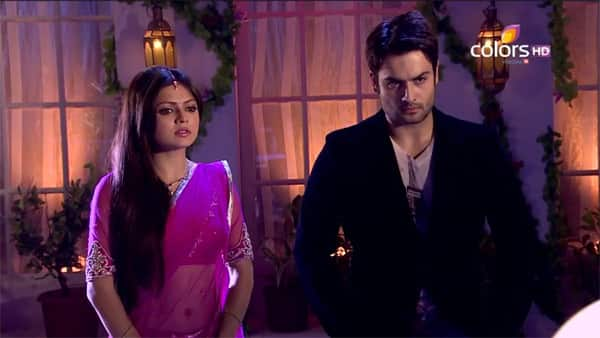 Love conquers all, but the crisis of mistaken identities, we doubt!
Madhubala Ek Ishq Ek Junoon is currently following the track of duplicates getting exchanged. The real Rishab Kundra (Vivian DSena) is behind bars and KRK is living with Madhu as RK. So far, KRK has maintained his distance from Madhu (Drashti Dhami) on the pretext of work, headaches, sleep deprivation and what not, but for how long?
The real Rishab couldn't keep his hands off his biwi, so will Madhu see through KRK's farce and realise that it's not her husband? KRK even took Madhu to the prison, to show off his victory in front of Rishab. Although it did increase Madhu's doubts, but not enough for her to do something about it.
Wethinks, Madhu should put KRK to a romance test to truly reveal his identity, no? Considering KRK is a bramhachari and a Hanuman bhakt, he will not let Madhu get physically close to him. However, it could make an awesome sequence with Madhu singing and dancing to seduce her fake hubby. It's really sad to see the real Rishab suffer so much in prison and we'd like nothing more than seeing the happy couple together. Then again serials are not run on romance alone, no?
According to our khabru birdie, KRK's secret will come out in the open very soon and then it will be interesting to see how Madhu will switch the two.
Keep watching this space to find out how Madhu – the 'lady knight in shining armour', will save her man in distress.