Madhur Bhandarkar: Kareena Kapoor is not pregnant!
BollywoodLife
Last Updated: 5.46 PM IST 03.09.2012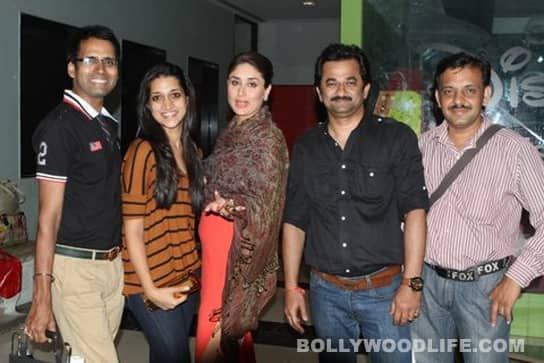 While everyone is busy speculating about Bebo's pregnancy, her Heroine director says it's not true
Kareena Kapoor's marriage with her beau Saif Ali Khan is still about a month away. So we were taken aback when we saw a photograph of her posted on Twitter by director Madhur Bhandarkar where she looked like she had a baby bump. Just when we were beginning to think how jinxed Bhandarkar's film Heroine was – his first female lead Aishwarya Rai became pregnant in real life – we heaved a sigh of relief when he posted a clarification on the microblogging site. He tweeted, "Guys lets not speculate. Its for REEL & not real!!! Its for a scene in my film #Heroine. Its FAKE!!!"
This led us into thinking, why is poor Bebo playing a pregnant woman and that too when she is at the peak of her career? She has played yummy-mummy roles in the past as well. But we are wondering now whether she is trying to keep pace with Vidya Balan, whose pregnant woman act in Kahaani has been much appreciated. We heard that Heroine is the Chammak challo babe's most ambitious film, with which she wants to prove that not only is she the most gorgeous girl in B-town, but she can act as well. This time, she doesn't have a Khan who can get the film a Rs 100-crore opening at the BO. Also, her co-star Arjun Rampal hasn't had any luck as a solo hero. So Bebo's responsibility has doubled up. Tell us if you think Kareena can get a Rs 100-crore opening without a Khan to her rescue.
ALSO READ: Is Kareena Kapoor playing a terrorist in 'Agent Vinod'?
First Published: 5.46 PM IST 03.09.2012