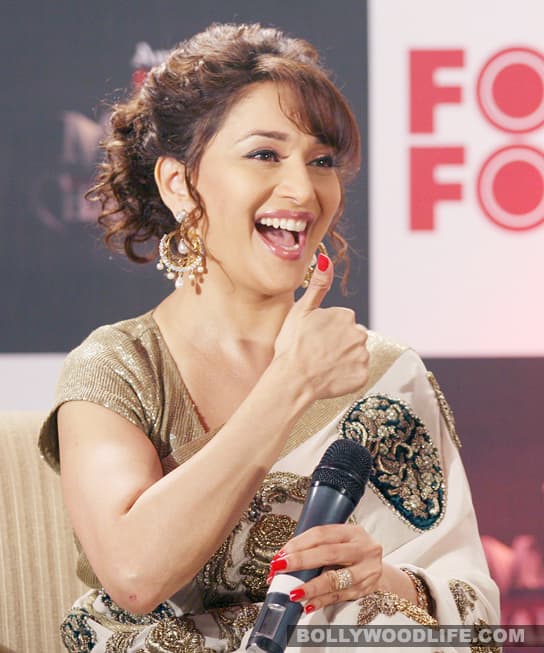 The Dhak dhak girl recently did some spontaneous mimicry from the crew members during an advertisement shoot
Madhuri Dixit, the girl with the zillion dollar smile, known to be one of the warmest and nicest actors in B-town. And recently the actor proved it right. We bumped into a video where the actor was coaxed to do some spontaneous imitations and Madhuri obliged without making a fuss. Madhuri was shooting for a toothpaste ad recently and after giving her shot, the actor was about to leave when the crew members on the set asked her say some of her famous dialogues. Unlike other celebs, who vanish into their vanity vans immediately after the shoot is done, Madhuri took time off and not only interacted with the crew, she also regaled them with her mimicry. Soon more and more requests started coming in – from the light man to the spot boy everyone had a special request.
The actor sportingly imitated many of our B-town stars and international artists. The video shows Madhuri mimicking Shahrukh Khan, Dev Anand, Bugs Bunny, Charlie Chaplin, Raj Kapoor and others. One of her best acts in the video was where she mimics Mithun Chakraborty and bugs bunny (which was her favourite cartoon as a child). Her infectious smile left us amazed and so did her humble, down-to-earth nature. Do watch the video on Youtube and let us know how you liked it.
ALSO READ: Madhuri Dixit: On me who has put this green colour?
Madhuri Dixit Nene to romance Akshay Kumar in 'Ko' remake