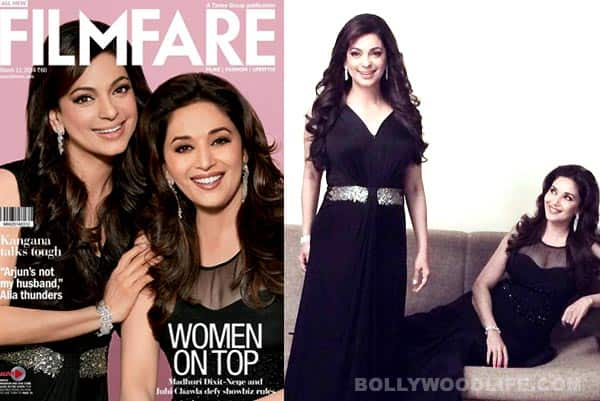 Here are the two arch rivals of Gulaab Gang making us go 'whatever' with their not-so-dazzling cover appearance together. Tell us if you think otherwise!
Ooops!-now that was our instant reaction when we witnessed a golden opportunity of capturing two demigoddesses of their times–and the fierce arch-rivals of their cinematic heydays- getting wasted completely.
Madhuri Dixit Nene and Juhi Chawla the two delicious delights of any photographer simply dawned yawns out of us, thanks to this dull cover of a popular filmi glossy.
We wish if only their dazzling smiles could have been saved from what can be called a disastrous shoot that was further marred by excessive photshopped gimmicks. Watch Mad's neckline and inconsistently air-brushed double chin and you will get what are we talking about. The boring pastel shade as the backdrop and the classic of use of the never-goes-wrong-no-matter-what black butchered your excitement in a jiffy.
We mean it- here are the two divas who never saw each other eye-to-eye when they were right at the top of their careers, now coming together for the first time, trying to bond like teenagers housed in the same penthouse. Now that idea will conjure up colours and masti in your head, but the excessively formal dressing (to hell with chic) and the boring colur tones, not to mention the intensely fake expressions of bonhomie flashed by the two ladies, striking that really blah pose,simply killed our mojo..err our mood in one swift stroke.
The duo looked more style-forward, friendly and relaxed on Koffee With Karan instead. Even their camaraderie looked less put on the coffee show when they celebrated their 'togetherness'-for their movie, of course. Tell us if you agree to disagree or you are with us on this for we stated the naked truth without batting an eyelid!