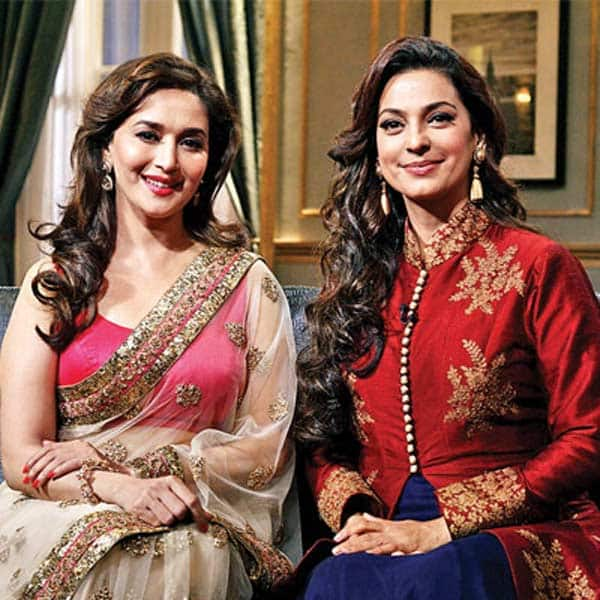 The two B-town beauties might have been showing off their 'togetherness' to promote their forthcoming release Gulaab Gang, but our loyal readers still want to pitch the two gorgeous ladies against each other-or at least their comments suggest so
They are gorgeous, elegant and amazingly enticing. Madhuri Dixit Nene and Juhi Chawla reiterated our sentiments about their goddesses like personalities by making their heavenly presence felt on Koffee with Karan recently.
We even did a snippet on the duo's style and the way the two showed off their new-found camaraderie on KJo's notorious black leather couch. We thought Mads was her super glam, super-hot-mommy self, while Juhi proved why she is the eternal cheerful babe of all time. "Juhi looked more real and comfortable. Madhuri looked good but like she had 2kgs of make up and polish on her face alone," said our reader Harsh.
Another reader believed that Madhuri was a total stunner with her million dollar smile. "both are 40+ and its great to see someone maintain so well, hats off both ladies. Madhuri smile is a killer… Juhi is sweet….."
Ria could sense that the the duo emanated cold vibes on the show to reflect their long-standing rivalry in a subtle way. "Both born in '67, both stepping out into the limelight in '84, and 30 years later both still getting compared for their fashion sense!! They're stunning in their own different ways. But… There were definite cold vibes bouncing off the screen, despite the attempts to smile sweetly and charm viewers," maintained Ria.
Another royal reader expressed that Juhi was more down to earth and real than the dhak-dhak beauty. "Juhi looked classier, bubblie while Madhri looked sexy and elegant. Both were great in their own. Juhi's acceptance for refusing second lead for Dil To Pagal Hai was quite down to earth attitude and Madhuri's smiley face at that point was memorable and high point of show,"
We at BollywoodLife were seduced by both the superstars with their oomph and relentless charm. But readers had their clear favourite!