Madhuri Dixit-Nene is coming home to Mumbai!
BollywoodLife
Last Updated: 3.30 PM IST 09.18.2011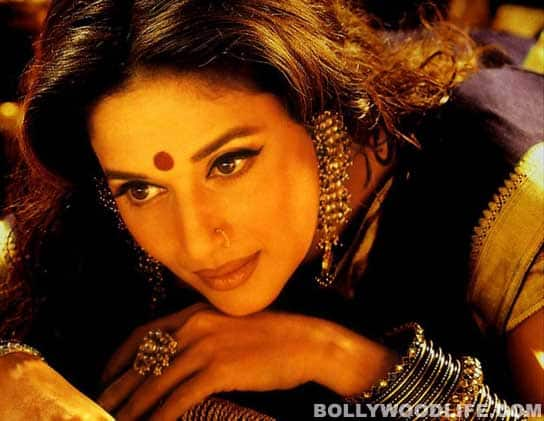 The dhak-dhak girl is all grown up and is now a wife and mummy. And now, after many years in the US she is coming back to the city that made her famous, bag, baggage and family!
She left India in 1999 to settle in Denver, Colorado, with the man of her dreams, Dr Sriram Nene. And she spent her time raising her two sons, Arin and Ryan, being an ordinary person who could drive to the grocery store without attracting fan mobs and, famously, learning how to cook. But happy domesticity seemed to get tiresome after a while, and all those who mourned her sudden exit from Bollywood were given the chance to see her again, albeit in small doses, when she came back home on holiday, did a not-too-successful film called Aaja Nachle, and then, last season, sat in the judges seat for the television dance show, Jhalak Dikhla Jaa. She is now closely associated with the TV channel FoodFood, with chef Sanjeev Kapoor, and we have already started seeing promos of a cooking competition of sorts with Madhuri doing the tough lady act. We told you it seemed likely that she was coming back, but now we are proved right. The lady herself tweeted last night, "For all my fans, we r relocating to India! It will b good to b back home." We hear that she is going to refurbish her Juhu apartment and the family will move back to India bag, baggage and American accent. Mads – with the help of long-time faithful manager Rikku Rakeshnath, of course – has already started scouting for schools for her sons and hubby Ram is looking for the best opportunity to start working here too. We are, of course, thrilled, since we are huge fans of the lady with the most radiant smile in B-town, but we cannot help wondering just what roles she will suit now. Satte Pe Satta, perhaps? Wait and watch this space!
First Published: 2.40 PM IST 09.18.2011