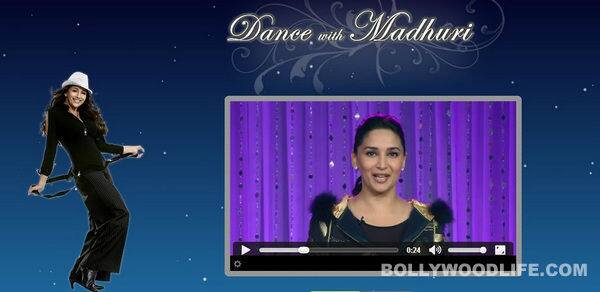 skip advertisement
'Come, dance with Madhuri Dixit', says the Dancing Diva of B-town, as she promises you some fun and  hardcore dance lessons
Who says you can't dance like Madhuri Dixit-Nene? You easily can, at your friend's wedding or your college gathering, or just to please yourself. It is this feeling that Madhuri is trying to cash in on, and has launched her much-hyped dance academy…online.
Madhuri tweeted last Friday, "We have a huge surprise in store for all you dancers and budding dancers! Watch for news on Monday". And here comes the big news. The actor-turned-producer who is known to be an excellent dancer is teaching her moves to budding performers and fans alike.
On her dance school's website Dancewithmadhuri.com, the diva says in her intro: "My own life depends on three things – food, clothing and dance. In India, people can even dance to the sound of a generator, which means everybody can dance… Starting today, I vow to make dancing fun, simple and easy for you. So are you ready to rock? Just join me at Madhuridixit-nene.com. And come, dance with Madhuri Dixit! You have loved my dancing all these years. Now, I'm coming to you to make you dance with me, and dance like me. Dance is universal…the whole world is a stage, and we will bring it together under one roof," she says.
The actor announced the launch on Twitter, saying, "World wide launch of my dance academy!!!! http://www.dancewithmadhuri.com http://www.madhuridixit-nene.com Come dance with me!!!! dancewithmadhuri.com is an online dance academy which is accessible anywhere, anytime on any device!" She elaborated, "I have had a passion for dance since the age of three. We designed www.dancewithmadhuri.com to share that passion with all of you. We have started with two of my songs, and we will be building a library encompassing all dance styles and choreographers. No matter who you are, you can learn to dance at your own pace, in your own setting, and socialize with people around the planet! We will keep it fun through exciting rewards, badges and more! Come and join us!"
We managed to create a profile on Madhuri's dance school website, but couldn't go further. It seems like the site is seeing a record number of visitors watching Mads giving lessons, and also uploading their own dancing videos. But when you have Madhuri Dixit as your tutor, what else can you expect? (Are you logging in already?)
It shows again how the actor is totally with it when it comes to the online business – first she launched her Twitter and Facebook profiles, then her website and then her iTunes, iPad and Android apps. And now, her online dance school. That's some business and tech acumen we love to see in the pretty lady who has gone about all this without making too much of a song…err..dance about it. Now, all we're waiting for is to watch movies made by her production house! What next…an acting school, Madhuri?
Photos: Madhuri Dixit-Nene Facebook and Dancewithmadhuri.com