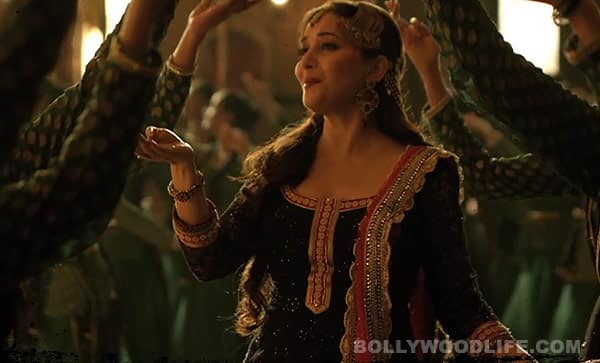 Despite the rave reviews, the shows are running empty at the theatres
Madhuri Dixit's Dedh Ishqiya has been rejected by the audiences. Post the release, now it is being debated if it was a wrong decision to drop Vidya Balan from the film, when the heroes — Naseeruddin Shah and Arshad Warsi — from the prequel Ishiqya were retained. Was Mads the wrong choice? She was the USP of the film and the burden of it's failure lies solely on her shoulders. Fair? Maybe not. Let's see what possibly when wrong.
The age of romance
Sridevi chose to return to the big screen with a film befitting her age. She played a wife and a mother. Madhuri chose to return as the leading lady who is looking to get married and is holding a swayamvar. Mistake no. 1? Also, she had a much older hero romancing her. Are audiences perhaps not ready for mature romance? Her followers were kind when she danced to Ghagra with Ranbir Kapoor in Yeh Jawaani Hai Deewani, but she let them down again. She needs to evolve and needs to let go of playing the desirable diva.
Industry watcher Amod Mehra says, "The target audience today is 8-35 years — consisting of young blood who have money power. They will not want to see an elderly woman on screen."
Amod feels that marriage has nothing to do with the box-office success ratio in an actress' career.
"It's age, not marriage that is a problem. Now marriage is not the issue, if you are aged and 40-plus then yes, it's a problem. But if you choose a film with the right content and a character which suits you and which people can identify with, then you have a winner on your hands."
Too much TV time
Madhuri is overexposed on TV. Once a heroine becomes a judge of a reality show, she is pretty much writing off her career on the big screen. Can you now picture even a Sonali Bendre, Raveena Tandon and Shilpa Shetty playing the leading lady in a film? And they are all much younger than Mads.
When your fans see you on TV twice a week (not counting the innumerable reruns) they get their fill. They are hardly going to rush to the theatres for the 'comeback' film. Interestingly, this doesn't apply to the heroes. Salman Khan and Amitabh Bachchan continue to rock the big screen.
The wrong choice
Perhaps Mads should have picked a more contemporary film to return with. This one just had too many problems. It was set in a time and place that is niche. There was just too much Urdu in the film and finally the role was something that would have suited the actor 10 years ago. Trade analyst Komal Nahta says, "The excitement to watch Madhuri is only in Bollywood. Today's youngsters are more irreverent and not excited to watch her. Yes, if the film was very good, they would have thronged the theatres to watch it. But nothing from the songs to the high-flying Urdu dialogues caught on.
The choice of films of the senior actors like Karisma, Raveena, and Madhuri were wrong.
Sridevi's comeback was so good because she had the vision to choose the right film — a film which was liked by everyone. A young-at-heart film which the people of today, especially the youth, could identify with. You can't exclude the younger generation if you want the film to succeed.
Heroines who want to make a comeback have to be very careful about the first film they select."
The comebacks that worked
She has chosen sensible roles to return with time and again from Teen Deewarein, I Am, My Brother Nikhil to Son of Sardar
The best comeback in the history of Bollywood has to be Sridevi. Great role, great film, a full-on paisa vasool for her fans
She got married in 1999 and returned to the big screen with Dil Kya Kare with husband Ajay Devgn. She played a wife and a mother in the film. And in many others after that. Kabhie Khushi Kabhie Gham, Fanaa, My name is Khan, We Are Family.
Story text courtesy DNA