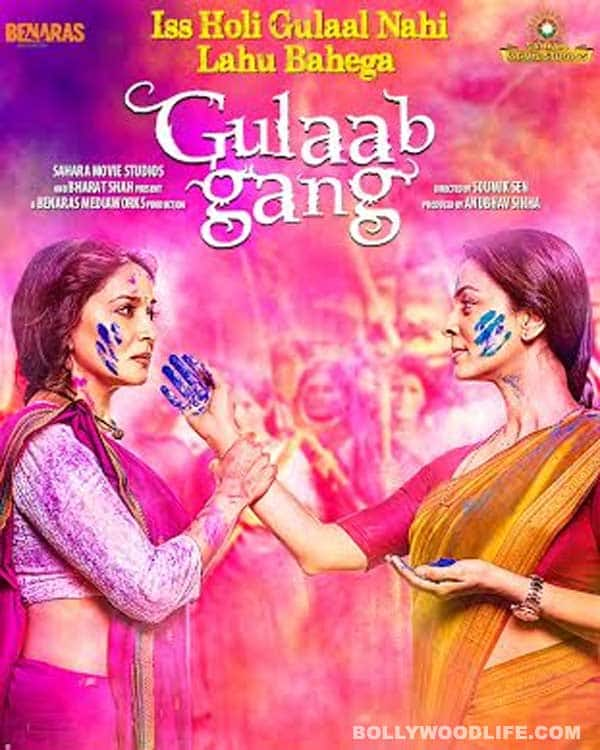 The Delhi High Court has restrained the film's producer from releasing the movie anywhere in India before May 8
Yesterday (March 5) the Delhi High Court stayed the release of Madhuri Dixit-Juhi Chawla starrer, Gulaab Gang, which is apparently based on the life of activist Sampat Pal Devi, the founder of Gulabi Gang, a group of pink saree clad women vigilantes of Uttar Pradesh. Pal had moved the court seeking a stay order on the film, alleging that the makers of the film didn't take her permission before making the movie, which shows her in bad light.
Now, we hear that Justice Sanjeev Sachdeva has restrained the film's producers, Sahara One Media Entertainment Ltd, and their agents from releasing, exhibiting, distributing and promoting the film till the next date of hearing on May 8.
"It's a personal victory for me, my faith in the country's legal system has been restored," Sampat was quoted by a leading daily. When asked if this move of hers is driven with an intention of money settlement, she said, "My reputation is at stake. Right now I'm very happy with the judgement. For anything else, please talk to my lawyer."
In an interview with the same daily, Pal's lawyer, Kush Sharma talked about as to why they went to the court on release before May. He said, "We had sent a notice to the makers of Gulaab Gang's in June 2013 asking them to refrain from going ahead without our consent. For the next 10 months we sent them imnumerable reminders, but they chose to reply only on February 4, saying that the film bears no semblance to Sampat Pal Devi's life."
And on what basis did they argue that the film is based on the life of Sampat without seeing the film or even read the script, he was asked. "We based our assumption on the title, the trailers and the posters. There is no group in the entire world other than Pal's which protests wearing pink sarees. Also, Madhuri's character bears a striking similary to Pal. She's shown with a sickle in one hand and a laathi in the other. This is very derogatory for my client," he answered.
All said and done, Gulaab Gang, which is being directed debutant Soumik Sen and produced by Anubhav Sinha will not hit the theatres before May 8. Or will the makers sort out all the issues with Sampat? Well, all we can do is just wait and watch!