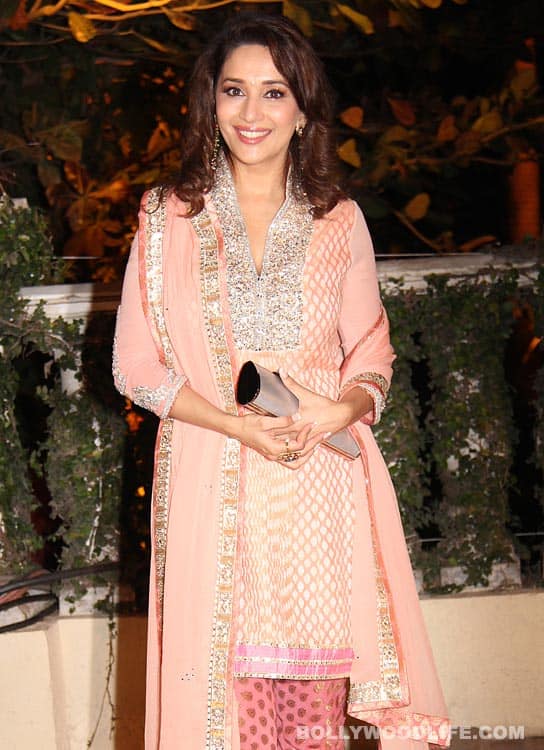 A li'l late in the day wethinks, but better late than never!
So, is it important to be waxed at Madame Tussauds, in order to be recognised internationally as a top celeb? Our Bollywood stars sure seem to think so. Hrithik Roshan, Amitabh Bachchan, Shahrukh Khan, Salman Khan, Aishwarya Rai, Kareena Kapoor all have wax statues, some of them at more than one Tussauds museum. Now one more icon joins the list of Bollywood actors whose statues will be available for fan pictures in London – Madhuri Dixit. So, should we jump for joy or something? We're not sure. But apparently the guys at Madame Tussauds were very excited about adding another Bolly celeb to their list and all. Ha. "The award winning actress Madhuri Dixit-Nene is the latest Indian film star set to join the A-list line up here at Madame Tussauds London. Madhuri, famed for her dazzling dancing, has already given a sitting to our sculptors in Mumbai and is expected to unveil her likeness here in March." Or so they said. And Madhuri, too, eager to hog all the limelight on her comeback to India, is apparently "really thrilled" and thinks it's a "real mark of achievement". Well, if you say so, girl. BollywoodLifers, do you think it's a big deal to get waxed at Madame Tussauds?
ALSO READ:
Kareena Kapoor's wax figure unveiled at Madame Tussauds
Is Madhuri Dixit B-town's new endorsement queen?