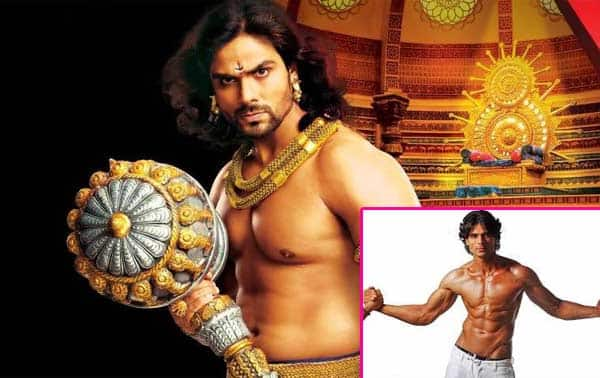 This model-turned-actor shed his sexy six pack abs to bulk up for his role in Star Plus' Mahabharat
Arpit Ranka's bulked up mean avatar is a stark contrast to his image as the Gladrags winner in 2006. The actor  who is seen as Duryodhan in mythological TV drama series Mahabharat had to lose his six pack abs in order to play this role. He said in an interview, "I was very lean as I was a model. I thought that my lean frame would not make my character convincing and people would not take him seriously as he is a royal and warrior after all. So, I lost my six packs."
The actor, who has starred in several Tamil and Telegu films, made his small screen debut with the Swastik Productions' magnum opus. "I have been in this field for the past ten years. I have done films down south. I was not keen to do a TV show but when I was offered Mahabharat I just could not say no," he said.
"And more so because such larger-than-life characters stay with you. People start to recognise you as the character. I was confused initially but now I feel if I had said no then it would have been my biggest regret. It is a very big deal to do Mahabharat," said the 2006 Gladrags winner.
Mahabharat has been airing on Star Plus since September last year. The show, which comes almost 20 years after BR Chopra's super hit series based on the Hindu epic, has been able to strike the right chord with audience.
Arpit has been getting a lot of appreciation for playing Duryodhan and said the reason he can portray the character so well is because he relates to him in many ways.
"People have liked me on the show and it is my biggest achievement. I can relate to the character. I also have a lot of ego and if I set my mind on to something I do it no matter what, just like Duryodhan. I feel like I am living the character," he said.
When asked about the transition from modelling to acting, Arpit said, "Acting is tough but I always wanted to be an actor. So I put in my best. Also, the show doing good is a great boost for all of us to perform better."
Mahabharat also stars Shaheer Sheikh as Arjun, Pooja Sharma as Draupadi, Aham Sharma as Karna and Arav Chowdhary as Bhishma. The sets of the show is spread over 10 acres of land in Umargaon in Valsad, Gujarat.