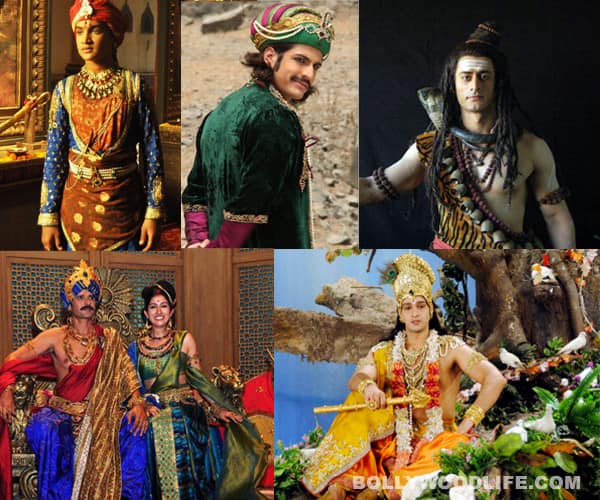 Historicals, mythologicals, fantasy fare the small screen is taking to period dramas like never before. Every other channel prides on having one such serial in its programming mix
If Sony has Maharana Pratap, Zee has Jodha Akbar and the newly-started Buddha, Devon Ke Mahadev is ruling Life OK while the katha of his putra Bal Ganesh has just begun.
Then there's the epic Mahabharat that is being revisited probably for the fourth time on TV, by Star Plus. And waiting in the wings is the legend of Hatim that is slated on Life OK. What's more, most of these serials occupy the much-envied daily prime time slots. Clearly there is a spurt in period dramas with more the merrier being the new mantra.
Back to the roots
Ajit Thakur, General Manager, Life OK believes it was the success of Mahadev that set the ball rolling for costume dramas. "In today's times everybody needs a hero and we can find him in the ancient texts. What is important is we have to make viewers look up to the heroes, at the same time they should be able to relate to them, which is what Mahadev did." Costume designer Nidhi Yasha who is creating the look for Buddha, Mahabharat, Jodha Akbar and was part of Mahadev says a need was felt to go back to our culture. "Even our daily soaps have become more rooted," she says.
According to Ajay Balwankar, Programming Head, Zee, period dramas give viewers both a sense of alienation and relevance. "Alienation as it is set in a different era, and relevance in terms of the characters' relationships," he says citing the example of Jodha Akbar. "In a way it's the story of a ruthless, powerful husband and his wife Jodha who comes from a different environment. It's about how they impact each other's lives towards a positive end. And that's what every marriage is about, the couple's impact on each other," he adds.
Bigger the better
Whether it's Buddha that was initially meant to be a film and later turned into a serial or Mahabharat that has been in the making for four years, each one boasts of being extravagant and grand. As Balwankar says, "Grandeur in a small box is the major draw. Typically TV is not about grandeur or long shots. It is more about close-ups. With costume dramas you can create imagery of something big."
Siddharth Kumar Tewary has gone all out to spend on VFX, sets, locales etc and reportedly spent Rs 100 crores on Mahabharat to make it a lavish affair, while the cost of one episode of Buddha is said to be over a crore! Refusing to comment on the figures, Balwankar, nevertheless claims that it's "the best-mounted show. A lot of research has gone into it and from the costumes, jewellery to the sets everything is remarkable".
If that's not enough Thakur informs that they are coming up with a big fantasy drama (Hatim) with a contemporary touch that will take graphics to the next level!
Style file
Since there are no valid references for mythological characters, it's a challenge for costume designers to create the look. "We have to keep in mind the public imagery and the sentiments attached to it," says Nidhi, who read 450 books as part of her research on Mahabharat. "All the costumes and jewellery for the show are custom-made.
It has been designed keeping in mind the zone and cultural background of the character. For instance Gandhari belonged to Gandhar which is part of Afghanistan and so you will find a lot of gold with turquoise stones. Since it's a cold desert the clothes have a coarse texture and earthy palette." For Buddha, well-researched costumes were bought from Jodhpur and Jaipur and specially customised jewellery was sourced from Patna, each set costing lakhs. Nidhi has used a lot of amber, coral, agate stones and geometric patterns in the costumes and jewellery.
"The look is classy, and subtle," she says. Neerusha Nikhat, who designed Parvati's look in Mahadev says she made it contemporary by using chiffons and flowing fabrics. "Though Parvati's colours are red, white and yellow, I did not make it glossy or gaudy. Even the embroidery was minimal," adds the designer who has also styled Bharat Ka Veer Putra Maharana Pratap. "The Maharaja of Udaipur called me and said I have come up with the exact replica, which is a big compliment," smiles Neerusha who is also working on the look of Hatim.
What works, what doesn't
Tewary says the fact that people already know about the mythical or historical characters helps. "They are aware of the story and are curious to know how it unfolds on the screen. But they also come with preconceived notions. We have to not only meet their expectations but also exceed them and that's a huge challenge one faces." As Thakur points out, one big reason for the success of Mahadev was the contemporary feel and narrative of the story.
"Instead of opulent costumes we gave it a distinctive futuristic look. We made it contemporary with computer graphics. In the narrative we stuck to modern themes like man vs nature, man-woman relationship etc. Unless these period dramas differentiate in terms of look and narrative it will not connect," he says. It's especially true for Mahabharat as people have already seen several versions of the epic. Tewary insists his interpretation of the epic comes with a modern perspective. "We are giving two sides to every incident and leaving it to the viewers to form their own conclusions," he adds. As for Buddha, who is being brought to life on the small-screen for the first time, more than his philosophy, the serial will trace his journey from a prince to king. "He was a great king and his life is inspiring," says Balwankar.
Looks like costume dramas are here to stay. Viewers are not only being spoilt with lavishly mounted shows but also engaging lessons in history and mythology!
Story source: DNA