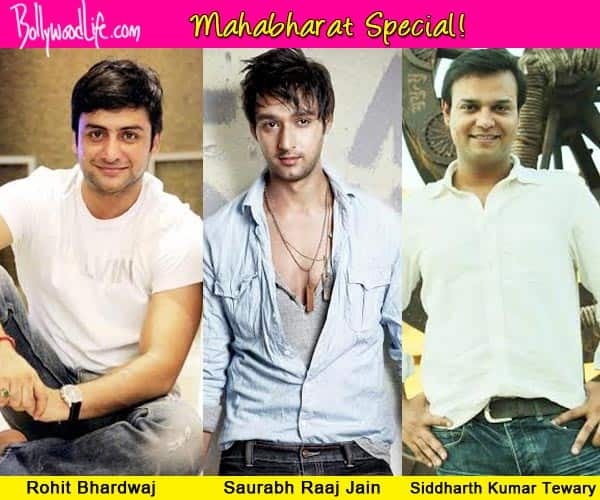 The popular show on Star Plus is finally coming to an end
The new Mahabharat created history with its story telling, treatment, production value, stellar performances, special effects and more. The series is now etched in our minds and the credit solely belongs to producer Siddharth Kumar Tewary. It's not just we who think so, but even the actors on the sets believe that Mahabharat has been changed them as human beings and actors. We caught up with the producer, Rohit Bhardwaj and Saurabh Raaj Jain to know how their journey has been so far. Read on to know what they had to say…
Rohit Bhardwaj aka Yudhisthira
I really feel proud to be part of Mahabharat. It was difficult task to executive a project like Mahabharat. Detailing of the story, graphics, characterisation and the dialogue writing has made this show so popular – the feeling is amazing. Honestly, I have no idea how this made a difference in my career but I am really enjoying this journey. I have always been a people person, I hate staying alone, but ever since I did this show, I have learnt to spend time with myself. I have made some great friends on the show – Rahul Tewary, Arpit Ranka and Siddharth Kumar Tewary. Siddharth is a sweetheart, is very friendly to me and to everyone on the sets. I really feel very comfortable sharing things with him. Among all the characters, I love the character of Dhuryodhana, as I always harboured a want to play that role.
Saurabh Raaj Jain aka Krishna
It feels incredible to be apart of such an amazing show. It is a fulfilling feeling whenever you are part of a project, which you enjoy doing and people appreciate your hard work. Mahabharat has taught me many new things both as a person and as an actor. Siddharth is the coolest producer I have ever worked with and the best thing about him is that he is not only very clear and decisive but also very logical in his thinking. I have three favourite characters in Mahabharat – Karna for his tragedy, Shakuni for his vengeance, and Draupadi for her powerful persona. I am humbled with the kind of love I'm getting through this role and whosoever meets me showers lots of love.
Producer Siddharth Kumar Tewary
Creating the Mahabharat is an honour for me. It has been a life changing experience and my father's blessings is the only reason I was able to achieve this challenge. It took a lot of time to understand the text and to come up with a way to tell the story so that today's viewers could relate to it. Finally, we came on air after four years of hard work and I feel blessed to see that viewers have loved our work and I'm ecstatic with what we achieved so far. I believe we have interpreted the same Mahabharat story in our own way and viewers have appreciated it. The feedback has been superb'. This series comes 24 years after the legendary first rendition of the epic and has made its own unique space in the minds of the viewers as it's a different interpretation and not a remake of the old version.
Well we will surely miss the show once it goes off air, won't you BollywoodLifers?