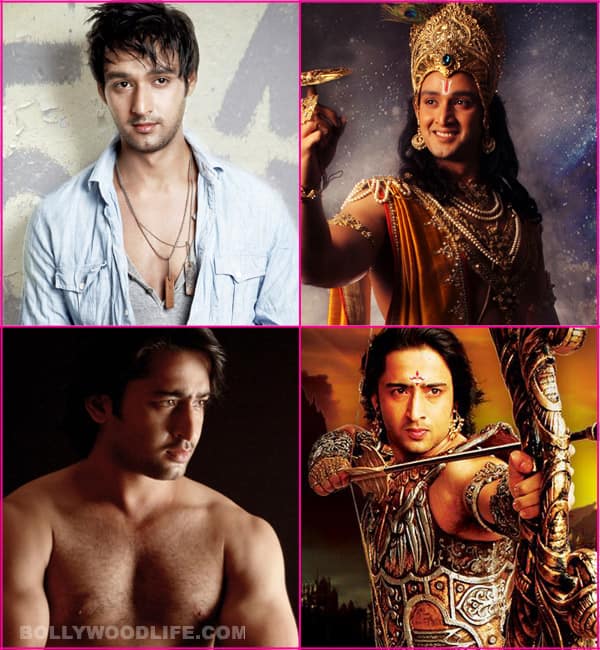 skip advertisement
The prime characters of the mythological saga leave us awestruck with their dumdaar presence each time they appear on our television screens
Be it the mighty warrior Arjuna, the fierce Karna or the evil devious Shakuni Mama , the actors of the Mahabharat on Star Plus, never fail to do justice to their epic roles. While their mouths do the talking, their biceps do the rest. Here's a look at their journey from real to reel life…
Rohit Bhardwaj as Yudhishtir
Playing the eldest son of Pandu and Kunti, Rohit Bhardwaj doesn't disappoint as Yudhishtir in Mahabharat. Known for his role in Tumhaari Paaki , Bhardwaj gets under the skin of his character effortlessly and is successful in playing the level headed and responsible elder brother to the rest of the Pandavas. A theatre actor from Delhi, the actor shifted to Mumbai to pursue his dreams. The Punjabi lad surely doesn't fail in impressing us with those toned muscles as well. The Punjabiness had to come in somewhere eh?
Shaheer Sheikh as Arjuna
An LLB graduate from New Law College, best known for his roles as Veer Mehra in Kya Mast Hai Life, Shaheer Sheikh surely knows how to flaunt what he has, bringing out the best of Arjuna, with his dashing looks and bulging biceps. From playing the boyish lad Veer in Kya Mast Hai Life to mighty Arjuna, Sheikh has worked hard to work it all. With a vigorous workout regime and a strict diet, Sheikh has managed to pull off the strong look and one can never be disappointed with what Sheikh has to offer on the show.
Saurav Gurjar as Bheem
If only he was green all over, he might as well be called the 'Mighty Hulk' of the Indian television industry. Broad, big and bulky, the wrestler turned actor works it all effortlessly and delivers with perfection, his role of Bheem in Star Plus's mythological drama. Surely, his former wrestling career helped him a great deal in making him fit for the role in the first place.
Vin Rana as Nakul
A charming face with a knockout body, what more does anyone want from Rana? Playing Nakul in Mahabharat, one is certain about Rana's motivation and dedication in the gym, to get that perfect look. Known as a fitness freak, Rana never misses his workout sessions. Apart from life lessons and values, this lad certainly teaches us to keep those chocolate cravings under control.
Lavanya Bhardwaj as Sahadeva
After seeing him from Hamari Devrani, one could be pleasantly surprised seeing Lavanya play Sahadeva in Mahabharat. A lean and toned face with a body to die for, Bhardwaj certainly has come a long way and manages to always impress the ladies, both on and off-screen.
Saurabh Raaj Jain as Krishna
Saurav Raj Jain has certainly come a long way. Starting out his career with the Star One show Remix, he now plays the character of Krishna in Star Plus's Mahabharat and Vishnu in Devon ka Dev..Mahadev. Fearless, charming and the ladies' man, Jain pulls off the character with ease, especially when it comes to making all the Gopis happy. From playing the tall and lean Amandeep Chaddha in Remix to the macho Krishna in Mahabharat, Jain can certainly be applauded for his hard work and zeal, specifically when it comes to building that body. Jain believes in the combination of a healthy mind and body.
Arav Chaudhary as Bhishma Pitamah
Known for playing small roles in films like Right Yaa Wrong, The Perfect Husband, Family, No Smoking, The Deadly Disciple and 88 Antop Hill, Arav Chaudhary has without a doubt made it big in the television world. Critically acclaimed for his role as Bhishma Pitamah in Mahabharat, Chaudhary has not only delivered in his performance, but has managed to sweep the ladies off their feet with his raw and appealing vibe. Playing the eighth son of Kuru King Shantanu, Chaudhray has pleased his audience with his charm and humility.
Praneet Bhatt as Shakuni Mama
Intelligent yet devious, Shakuni Mama is described as the mastermind in Mahabharat. Who would have thought that the character would be played so brilliantly by the once boy next door lad Praneet Bhatt? Known for his roles as Adi in Star One's Geet Hui Sabse Parayi and Jolly in Suvreen Guggal, Bhatt impresses us all with his wit, sharpness and that evil grin. Bhatt could probably be termed as one of the most popular characters on the show, with his macho build and confidence.
Aham Sharma as Karna
It doesn't hurt to see a pretty face, especially when it is Aham Sharma's. A tall and lean body, with handsome look nonetheless, Sharma brings out the many shades of the Karna and makes it easy for the audience to relate to him. From playing Angad in Asman Se Aagey to Karna in Mahabharat, one can be certain that Sharma has said goodbye to those carbs out there.
Arpit Ranka as Duryodhana
A Gladrags winner of the 'best body' title and a model turned actor, does one need to say more? The creators of the show clearly knew what they were up for when they signed Arpit Ranka to play the role of Duryodhana in Mahabharat. One of the most powerful characters in the show as well as in the Mythological books, Ranka impresses all with his power packed performance and strong screen presence.